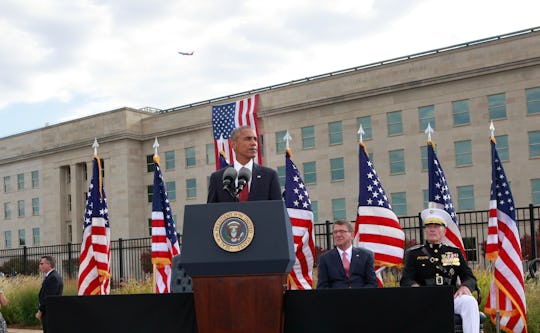 Pool/Getty Images News/Getty Images
President Obama's 9/11 Message Is One Of Service & Remembrance
Everybody remembers exactly where they were and what they were doing on the morning of September 11, 2001. I was sitting in my third grade classroom in my small, northern New Jersey hometown. I watched, confused, from my desk as classmates were pulled out of school because a loved one worked in one of the towers. Fifteen years later, it is still a day I will never forget. I am not alone in reflecting on that September morning. Americans across the country have taken to sharing inspiring messages and iconic images on social media as they memorialize the lives lost in the terror attacks, often accompanied by the words "never forget." President Obama's message was also one of remembrance when he delivered remarks to survivors and victims' families outside the Pentagon on the anniversary of 9/11.
"We remember, and we will never forget the nearly 3,000 beautiful lives taken from us so cruelly," Obama began his final Sept. 11 anniversary memorial as President of the United States. "We honor the courage of those who put themselves in harm's way to save people they never knew. We come together in prayer and in gratitude for the strength that has fortified us across these 15 years."
President Obama noted that the remarkable service, and resultant sacrifices, made by police officers, fire fighters, and good samaritans in the aftermath of the Sept. 11 attacks was not a singular phenomenon. The selflessness and kindness shown by Americans in New York City, Pennsylvania, and Washington, D.C. on that morning 15 years ago has only continued to grow and evolve. The survivors and families of 9/11 victims in particular, Obama pointed out, have been able to turn such a monumental tragedy into inspiration in the names of those lost. "In your grief and grace," Obama said to the crowd gathered outside the Pentagon, "you have reminded us that, together, there's nothing we Americans cannot overcome."
There has been plenty to overcome in the years since 9/11. Obama touched on the incomprehensible violence Americans have suffered in Boston, San Bernardino, and Orlando. Terrorist organizations like ISIL and al Qaeda have "tried to terrorize in the hopes that they can stoke enough fear that we turn on each other and that we change who we are or how we live." In the face of such threats, though, The President once again reminded his fellow Americans of the incredible service that is such an integral part of our country's DNA:
Our men and women in uniform, diplomats, intelligence, homeland security and law enforcement professionals — all who have stepped forward to serve and who have risked and given their lives to help keep us safe. Thanks to their extraordinary service, we've dealt devastating blows to al Qaeda. We've delivered justice to Osama bin Laden. We've strengthened our homeland security. We've prevented attacks. We've saved lives. We resolve to continue doing everything in our power to protect this country that we love. And today, we once again pay tribute to these patriots, both military and civilian, who serve in our name, including those far away from home in Afghanistan and Iraq.
"Across our country today, Americans are coming together in service and remembrance," Obama said towards the end of his speech. "The most enduring memorial to those we lost is ensuring the America that we continue to be, that we stay to true to ourselves, that we stay true to what's best in us, that we do not let other's divide us."
President Obama's message of remembrance and service rings true not only on this solemn day, but every day. As today marks 15 years since Sept. 11, 2001, the message from Americans is clear. Never forget.