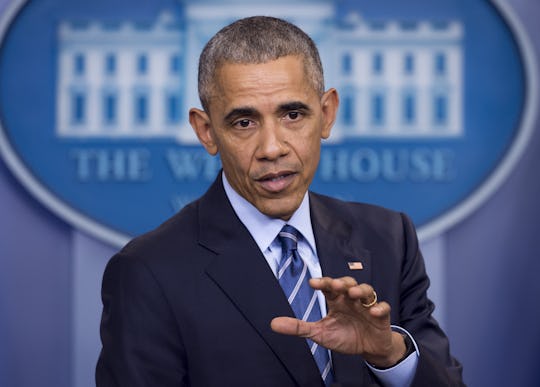 SAUL LOEB/AFP/Getty Images
President Obama's Demeanor During His Press Conference Reflects How Many Are Feeling
In his final year-end press conference, President Barack Obama reflected on November's election, ongoing conflicts in Syria and South Sudan, and his personal feeling of responsibility throughout the presidency. As he spoke, it was clear that Obama's demeanor during his press conference reflected how many Americans are feeling at the end of 2016: he isn't giving up, but it's certainly been a trying and tiring year.
Sounding frustrated, Obama spoke of the role the United States' hyper-partisan political culture had played in the election — and more specifically, in the public's perception of Russian interference in the election. "Some folks who had made a career about being anti-Russian didn't say anything about it," he said, according to The Guardian. "Over a third of Republican voters approve of Vladimir Putin, the former head of the KGB. ... Because for too long, everything that happens in this town, everything that's said, is through the prism of, does this help or hurt us relative to Democrats? Relative to president Obama?"
Obama said he held out hope that Russia could not legitimately interfere with the United States: the country was smaller, weaker, and less innovative, he said. However, even with that sense of defiance, he warned Americans against divisive policies, saying that Russia could influence the United States through its political culture. "They can impact if we lose track of who we are," he said. "If we start buying into notions that it's OK to intimidate the press, or lock up dissidents, or discriminate against people because of their faith, or what they look like."
Obama also expressed remorse and a sense of deep personal responsibility when it came to dealing with the crises in Syria and Sudan. "There's places around the world where horrible things are happening, and because of my office I feel responsible," he said. "I felt responsible when kids were being shot by snipers. I felt responsible when millions of people were being displaced." He said that despite feeling he'd always pursued the best course of action possible in Syria, he couldn't claim that the United States' approach had been successful.
The president sounded frustrated with the amount of media coverage Democratic candidate Hillary Clinton's hacked emails received, and mentioned that she was treated unfairly throughout the election. He expressed disbelief that fake news was receiving more attention than intimidation of journalists. He reiterated that there was no tampering with the election process itself, and repeated, several times, that Trump would be taking office in January. Many pointed out on Twitter that Obama seemed more resigned and defeated than he did in past press conferences.
However, Obama made it clear that he would continue to make a difference wherever he could. "I will help President-elect Trump with any advice, counsel, information that we can provide," he said, according to The Washington Post. He also said that he would continue working with the Democratic Party to improve its reach, telling reporters, "I can maybe give some counsel advice to the Democratic Party. ... I think there are gonna be a lot of talented folks out there, a lot of progressives who share my values, who are gonna be leading the charge in the years to come."
It's been a rough and eye-opening year for Obama and for many Americans, and it's not surprising that the president seemed somewhat tired and disappointed at his final year-end conference. However, it also sounds like Obama will be taking a holiday break and then going back to fighting for what he believes in, in whatever new ways he can — which seems like a pretty decent course of action for any other Americans who might be echoing his sentiments.