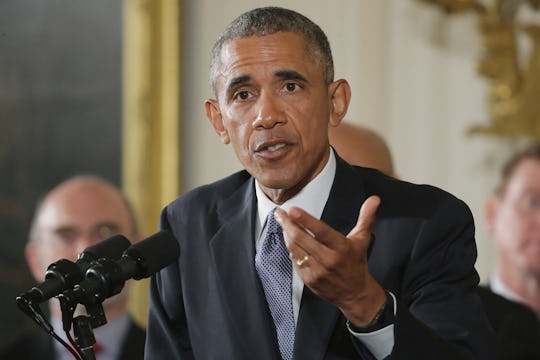 Chip Somodevilla/Getty Images
President Obama's Gun Control Op-Ed May Have Subtly Called Out Democratic Candidate Bernie Sanders
In case you missed it, President Obama dropped an op-ed in The New York Times about gun control on Dec. 7 just hours before giving a televised town hall about how to stop gun violence in America. Calling for "shared responsibility" in curing the "epidemic" of gun violence, the president's essay was clear on one point: In order to reduce gun-related fatalities, America has to majorly overhaul everything from Congress to commerce. But did Obama's op-ed subtly call out Democratic candidate Bernie Sanders?
The editorial followed Obama's tearful address to Congress on Tuesday, during which the president paused from his remarks to weep, and saying about the children killed at Sandy Hook Elementary in 2012, "Every time I think about those kids, it gets me mad." The president also issued executive measures to "cut gun violence" and close the "gun-show loophole" on background checks.
While Republican candidates have taken Obama's suggested gun reform propositions as an attack on the Second Amendment (that just so happens to be the knee-jerk Republican reaction when any suggestions are made about gun control... real original, guys), the president might have actually come down on the Vermont senator and Democratic presidential candidate's stance on gun control in his op-ed as well. In the piece, the president wrote that he would only back a Democratic candidate who supported "common-sense gun reform."
"I will not campaign for, vote for or support any candidate, even in my own party, who does not support common-sense gun reform," Obama wrote. "And if the 90 percent of Americans who do support common-sense gun reforms join me, we will elect the leadership we deserve."
Is Obama talking about Sanders here? You have to wonder. The Democratic debates have brought Sen. Sanders' voting record on gun control, specifically relating to background checks into the spotlight. According to Time, Sanders said during the October primary debate, "I come from a rural state, and the views on gun control in rural states are different than in urban states, whether we like it or not." Voters were not quite satisfied with Sanders' "I'm from a hunting state" response to his stance on gun control.
In fact, after reading President Obama's op-ed, I found myself looking up Sanders' record on gun control. According to Time, Sanders "voted against the Brady Bill gun-control law in 1993 and supported a 2005 law that gives gun manufacturers legal immunity if their weapons are used to commit crimes." Additionally, Sanders voted for the Protection of Lawful Commerce in Arms Act, which is a law that protects manufacturers and sellers of guns from any legal responsibility. In effect, this brand of gun control deters any federal power over reform on firearm sales and contradicts the "shared responsibility" Obama requested in his op-ed.
In December, in a less formal arena than the Democratic debates, Sanders put out a now-viral video interview with Killer Mike, during which the Atlanta rapper sat down to discuss the issue of guns. Still, Sanders and Killer Mike did not discuss gun violence at all, despite the fact that, according to an Atlanta Journal-Constitution analysis of government statistics, "gun deaths rose by 8 percent in Georgia" over the past decade. (Nationwide, gun-related deaths had risen 12 percent, the Journal-Constitution reported.)
Even pundits who support Sanders' moderate gun control model claim that gun-show loopholes can be problematic. In a column on Jan. 4, Forward Progressives's Manny Schewitz described the following alleged incident at a gun show that purportedly illustrated that fact:
Many gun fanatics will claim that the gun show loophole doesn't exist, but it is very much a thing. At [a recent] gun show, I saw a man with a Neo-Nazi tattoo on his neck buy a Dragunov sniper rifle. I don't know whether he was a felon or not, but someone like this probably should not have access to a semi-auto rifle capable of killing people at 800+ yards.
When you read chilling accounts like these, you start to wonder what "common-sense" background checks actually entail. As President Obama concedes in his op-ed, the NRA has made sure we are not going to see the type of gun control reform likely to significantly decrease gun violence in America, not with this Congress or the billion dollar arms industry. But town halls are the start to an important discussion. And, as the president wrote in his editorial this week, change takes time.
Images: Chip Somodevilla/Getty Images; Erich Schlegel/Getty Images; Giphy (1)