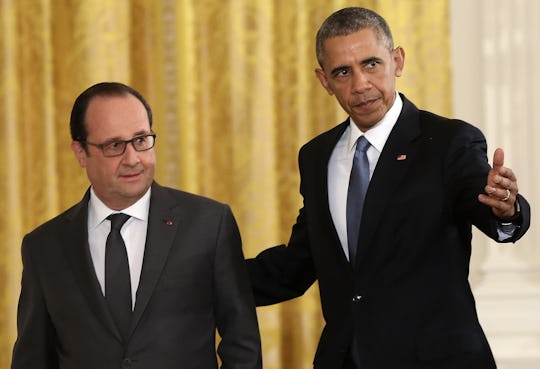 Win McNamee/Getty Images
President Obama's Joint Press Conference With French President Hollande Laid Out Further Plans For Combatting ISIL
Tuesday morning, President Barack Obama met with French President François Hollande in the White House to discuss the international campaign against ISIL. Afterwards, the Obama and Hollande held a joint press conference, during which the two heads of state laid out some of their plans in the ongoing fight growing terrorist threats. Obama opened the conference by first offering Hollande and France condolences for the Paris attacks. "This barbaric terrorist group, ISIL or DAISH, and its murderous ideology, pose a serious threat to all of us," Obama said. "It cannot be tolerated. It must be destroyed. And we must do it together."
It's been over a year now since the United States, France, and 63 other countries joined together to form a coalition against ISIL. On Tuesday, Hollande and Obama reviewed the coalition's progress and discussed where to go next. According to Obama, over 8,000 air strikes, along with local forces on the ground, have already kept ISIL forces at bay in several Iraqi and Syrian territories. In the 10 days since the Paris attacks, American assistance has supported French strikes in Syria, and a recent intelligence-sharing arrangement between France and the United States has increased the flow of threat information between the two governments.
Obama declared that this week, he'll sign legislation that extends American support — including intelligence and airlift — to France and other allies seeking to discover ISIL networks in Africa. He is also called for increased involvement from European countries, saying, "I am calling on the European Union to finally implement the agreement that's been long in the works that would require airlines to share passenger information, so we can do more to stop foreign terrorist fighters from entering our countries undetected."
The president also touched upon the tricky subject of Russia and its President Vladimir Putin, saying that the country's strikes against the moderate opposition — rebels against Syrian President Bashar al-Assad — only help fuel ISIL, supporting the violence that helped the terrorist group cement its place in Raqqa. "We agree that Russia could play a more constructive role if it were to shift the focus of its strike to defeating ISIL," Obama said, calling for Putin to transition towards attacks on ISIL and support the implementation of a democratic government in Syria.
When Turkey shot down a Russian military plane, Obama said, it should have indicated to Putin that he is supporting the wrong campaign — but if Russia were to focus instead on ISIL, they could be part of the 65-country coalition that's formed. "The work that we're doing to bolster local forces, the cutting off of supply lines, financing, oil, reducing the flow of foreign fighters, the intelligence work that needs to be done... all of that is something we are doing now and that [Russia] can supplement," Obama said. "But that is going to be a process that involves hard methodical work. That's the kind of work we're prepared to do, that France is prepared to do. Perhaps in the future, Russia will be as well."
CBS recently reported that only 23 percent of Americans think Obama has a sound strategy for dealing with ISIL. With plans to talk to Putin and call on the European Union, let's see if public opinion changes at all in the coming weeks.
Image: Win McNamee/Getty Images