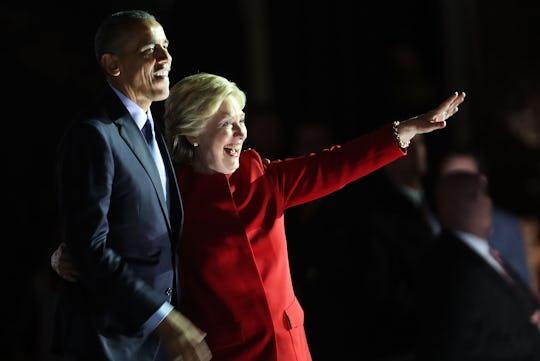 Spencer Platt/Getty Images News/Getty Images
President Obama's Joke About Losing Elections Before Is Just What Clinton Supporters Need
It's a gloomy morning across America for the millions of voters who supported Hillary Clinton: After a valiant — and sometimes unfathomable — fight against her Republican opponent, in the end, it was a fight she just couldn't win. President-Elect Donald Trump will be the 45th President of the United States. During a speech from the White House Rose Garden Wednesday afternoon, President Barack Obama spoke of how Americans must move forward as a nation under its new leader. But despite all the melancholy, Obama provided a much-needed moment of levity in his speech. President Obama's joke about losing elections elicited quite the chuckle from those gathered in the room.
According to a transcript from The Washington Post, Obama said, "Sometimes you lose an argument, sometimes you lose an election." He then added, "But the path this country has taken has never been a straight line. We zig and zag." Obama followed up his straight talk with a joke about his vice-president, Joe Biden. "Sometimes you lose. That's okay. I've lost elections before," Obama said, followed with this zinger: "Joe hasn't." After a hearty and desperately-needed laugh erupted on the lawn, Biden leaned in and said to Obama, "You beat me badly." The laughter helped to burst this palpable bubble of tension and uneasiness as President Obama addressed the nation.
As the laughter faded and Obama continued his speech, one thing became soberingly clear: Come Inauguration Day in January, the widely cherished and well-documented Obama-Biden bromance will be no more. As the Twitter-verse also came to this realization, reactions were a bittersweet mix of appreciation for the moment of humor on such a confounding day in America, and the forthcoming end of the Bromance In Chief.
I too will miss the dickens out of Uncle Joe. I kind of secretly hope that Obama and Biden start their own TV show, kind of like some whacky remake of Bosom Buddies for the 21st century.
Obama spoke for a little under 10 minutes to the press, but the relative brevity of his remarks didn't undercut the weight of his words. He spoke to America's youth — many of whom may have voted in their first election on Tuesday — and encouraged them to not get discouraged. "Don't get cynical, don't ever think you can't make a difference," he said.
Obama's speech was everything disappointed voters could have wanted — and needed — Wednesday afternoon: gracious about his party's loss, tactfully putting Trump on notice that the whole world is watching, and with just the right amount of candid humor to bring out at least one smile across America after such a crazy election.