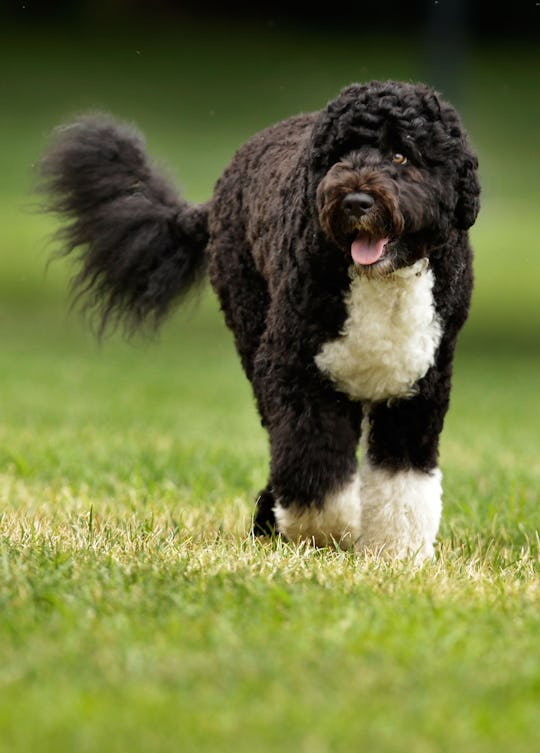 Chip Somodevilla/Getty Images News/Getty Images
President Obama's National Pet Day Photo Warms Even The Coldest Political Hearts
Congress is gridlocked, the primaries are heating up, and the Supreme Court remains at eight—but that's all okay, because President Obama's National Pet Day photo will warm even the coldest political hearts. National Pet Day is, of course, a day set aside to celebrate the love pets give us and to encourage adoption — and it's a holiday that the first family was eager to join in on as well. In a photo posted to his official Twitter account on Monday afternoon, the commander in chief was pictured sitting inside the presidential limousine, looking out the window while first dog, Bo, sat loyally at his side.
It's no secret that Bo, a Portuguese water dog, is beloved by the first family. His auspicious beginnings were at the most momentous time possible—during Obama's 2008 acceptance speech, immediately after the president had been re-elected. According to The Washingtonian, Obama rather publicly proclaimed at the time that his daughters had "earned the new puppy that's coming with us to the White House."
After a statement like that, any parent knows that follow-through is pretty much required. In 2009, Sen. Ted Kennedy and his wife gifted the Obamas with Bo, who had been purchased from a breeder in Texas by a D.C. family. Bo reportedly hadn't gotten along with the original family's other dog, and when the Kennedys learned about him, they realized that he was destined to be a member of the first family and sent him to obedience school (probably to brush up on his puppy etiquette before heading to the White House). The excited first family received Bo in April that year, and the pup even got to greet the White House press corps in an official capacity.
In 2013, Bo gained a younger sister, Sunny, also a Portuguese water dog whom the Obamas purchased from a breeder. At the time, Wayne Pacelle, the president of the Humane Society, wrote in a blog post that he "hope[d] the Obamas [would consider] adoption or rescue as the first choice in obtaining a pet" instead — but despite Sunny's non-rescue provenance, Pacelle was nevertheless pleased that the Obamas made a donation to the Humane Society in Sunny's name.
Since that time, Bo and Sunny have met with worldwide leaders and distinguished dignitaries. Bo himself has vacationed at Martha's Vineyard and accompanied first lady Michelle Obama on her trips to visit patients at Walter Reed National Military Medical Center. Notoriously, in January this year, a man from North Dakota was even arrested at a D.C. hotel after the Secret Service received a tip that he was planning on kidnapping Bo or Sunny, according to Time.
Obama's Twitter photo is part of the National Pet Day custom of posting photos of one's pet on social media accounts, under the #NationalPetDay hashtag. National Pet Day was started in 2006 by Colleen Paige, an animal welfare advocate who hoped that assigning a special day to celebrate pets would remind everyone about the ongoing need for animal adoptions, according to the National Pet Day website.
According to the American Society for the Prevention of Cruelty to Animals (ASPCA), 1.4 million cats and 1.2 million dogs are euthanized each year in the United States. That depressing number would be even higher if it weren't for the 2.7 million shelter animals that are adopted each year from the country's 13,600 community animal shelters.
All seriousness aside, it's impossible not to smile about the first family getting in on the National Pet Day action when Bo or Sunny look like this:
Or, for that matter, this:
So here's to wishing a happy National Pet Day to President Obama and, more importantly, Bo and Sunny, the real national treasures.