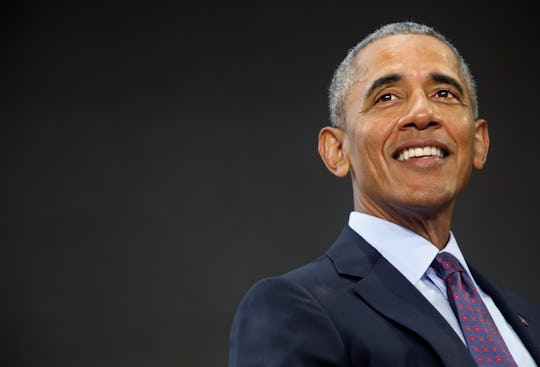 Yana Paskova/Getty Images News/Getty Images
President Obama's New Year Message Will Seriously Make You Sob
For many people, 2017 has been a particularly rough year: the popular majority of Americans have had to sit back and watch President Trump be inaugurated, many of the United States' environmental protections have been pulled back, and we've all had to learn some stark realities about some of our favorite actors as #MeToo has ripped through Hollywood. If it's been a rough year, take heart: President Obama's New Year message on Twitter will probably give you the "chin up, kid" pep talk that you didn't know you needed. (OK, OK, it might also make you cry your eyes out, but I promise it's worth it.)
Obama's had fans all across the United States asking him to please come back to his old job since January, and many Americans have felt a bit overwhelmed by the bad news that's flared up in the past year. But in a sweet New Year's message, Obama asked people to remember "what's best about America" and shared a handful of uplifting stories from the past 12 months.
"As we count down to the new year, we get to reflect and prepare for what's ahead," Obama wrote. And his reflection this year focused on three inspiring stories from across the United States.
The first story he shared was an article about the work of Kat Creech, a wedding planner in Houston who used a wedding delay caused by Hurricane Harvey as an opportunity to help the hurricane's victims. Around 30 guests were already planning on attending the wedding party, so Creech and the engaged couple decided to recruit them as volunteers for a good cause — helping rebuild several hurricane victims' homes — and hundreds of people ended up joining in. What started as a postponed wedding event ended up becoming an entire non-profit organization, Recovery Houston.
"That's a story from 2017," Obama tweeted.
He then shared a story about NFL player Chris Long, who donated his season salary to fund scholarships in his hometown of Charlottesville, VA. After Long decided to give up his salary for the season, some of his donations were matched by other NFL players, fans, and companies. Even Ellen Degeneres donated $30,000 to his efforts after she heard about his plan to donate a season worth of NFL paychecks to education.
"That's a story from 2017," Obama wrote.
And finally, Obama shared one 10-year-old Chicago student's mission to give away 5,000 "blessing bags" — packages filled with toiletries, food, and socks — to homeless people in his city. The fifth grader, Jakhil Jackson, started his own non-profit and met his goal earlier this month. "That's a story from 2017," Obama tweeted.
Needless to say, the stories Obama shared hit his fans straight in the feels:
Obama finished his round-up with an encouraging message. "All across America people chose to get involved, get engaged and stand up," he tweeted. "Each of us can make a difference, and all of us ought to try. So go keep changing the world in 2018."
Obama's encouraging message was, unsurprisingly, very well-received by the Americans who miss his presence in the Oval Office. Some people asked him once again to return to his presidential position. Others thanked him for sharing hope. Even Chris Long responded to Obama's thread with a tweet of his own, writing, "Honored to be mentioned, sir. And it's been a pleasure."
There's an oft-quoted Fred Rogers saying that goes, "When I was a boy and I would see scary things in the news, my mother would say to me, 'Look for the helpers. You will always find people who are helping.'" Obama's New Year message gives me that same sense of hope, but said in a way that only Obama could. (I'm not crying, you're crying.) Here's to a great 2018, folks.
Check out Romper's new video series, Romper's Doula Diaries:
Watch full episodes of Romper's Doula Diaries on Facebook Watch.