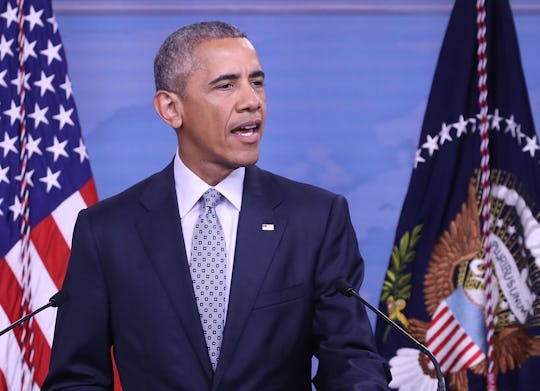 Mark Wilson/Getty Images News/Getty Images
President Obama's Quote About The Olympics Beautifully Captured Their Spirit & Importance
During the NBC live stream of the 2016 Olympics Opening Ceremony in Rio, an NBC newscaster interviewed President Barack Obama. During the interview, Obama spoke of the importance of the Olympics, and one quote from Obama about the Olympics perfectly captured their spirit and importance to cultures around the world.
The Olympic ideal of every country sending its best to compete in a spirit of good will — yeah, it's not going to end war, it's not going to eliminate poverty or some of the tragedies that we see every day — but it builds a sense of common humanity, a sense of empathy.
Obama highlighted that, sure, the Olympics don't address some of the huge problems each of the competing countries are facing, but they do bring people from each country together — something that rarely happens on such a large scale and for such an extended period of time. The Olympics highlight the fact that all of the people on the earth — though some are rich and some are poor, or some are struggling in ways others could never imagine — are still people, and they are often interested in chasing similar pursuits or similar goals. The Olympics brings together a set of people who seem to be superhuman while still reminding us that we are all similar. We all enjoy sport, and competition, but, more importantly, we all have dreams.
Obama came under fire because he's not actually attending the opening ceremony in Rio (because, you know, he's the president and he's kind of busy). Secretary of State John Kerry will lead the presidential delegation, according to Think Progress. Vice President Joe Bide also won't attend.
Think Progress noted that, though the president's absence could actually be seen as a bigger deal than most would think. Because the Olympics are a time for nations across the globe to come together, sending lower-level officials to the presidential delegation can be seen as a knock to the host country — and, in some cases, not sending a high-ranking official like a president or vice president could actually serve as condemnation for the host country's leader or government. It's unclear if that's what's going on at this year's opening ceremony.
Regardless, Obama's comment about the importance of the Olympics was beautifully simple and poignant, and showed just why the games have been an important tradition for thousands of years.