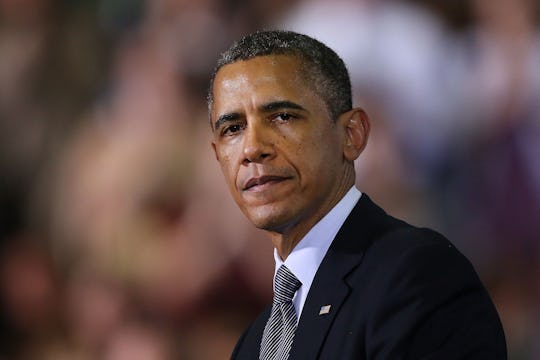 Spencer Platt/Getty Images
President Obama's Statement On Paris Attacks Should Make You Proud Of Our President, No Matter Which Party You Belong To
Earlier this evening several devastating explosions and shootings took place in Paris, France, outside of the Stade De France during a friendly match between the French National Team and the German National Team. Following the tragedy (reports indicate that roughly about 130 people were killed), President Obama gave a brief but heartfelt statement on the attacks, which were the most deadly terror attacks since 9/11.
His words ring all too close to home, as gun violence in the United States continues to be a national issue and a hot-button topic with a 2016 election looming. Obama has consistently done his part to lobby for better, safer, and stricter policies that would make it harder for individuals to own and buy guns in America, but time and time again he's been met with harsh opposition. But today's attack in France was not a matter of gun control. Local media and individuals on the scene have reported that several shooters armed with AK-47s were seen on the scenes, and ISIS has claimed responsibility for the attack.
Once again, and sadly enough, the United States is no stranger to terrorism. Ever since September 11, the U.S. had made it a point to rise, stronger than ever, and to stand together with the countries and the individuals who have fallen victim to international and domestic terror attacks. Obama's statements are a testament to the very best America has to offer, regardless of whatever party you belong to.
He told reporters and press:
I just want to make a few comments about the attacks across Paris tonight. Once again we've seen an outrageous attempt to terrorize innocent civilians. This is an attack not just on Paris, an attack not just on the people of France, but this is an attack on all of humanity and the universal values that we share. We stand prepared and ready to provide whatever assistance the government and people of France need to respond. France is our oldest ally. The French people have stood shoulder to shoulder with the United States time and again. We want to be very clear that we stand together, with them, in the fight against terrorism and extremism. Paris itself represents the timeless values of human progress. Those who think they can terrorize the people of France or the values that they stand for are wrong. The American people draw strength from the French peoples commitment to life, liberty, and the pursuit of happiness. We are reminded in times of tragedy that the the bonds of liberté, egalité, and fraternité are not only values that the French people care so deeply about, they are values we share, and those values are going to endure far beyond any act of terrorism or the hateful vision of those who perpoutrated the crimes this evening. We're gonna do whatever it takes to work with the French people and nations around the world to bring these terrorists to justice and to go after any terrorist networks that go after our people. We don't yet know all the details of what is happened. We have been in contact with French officials to communicate our deepest condolences to the families of those who've been killed, to offer our prayers and thoughts to those who've been wounded; we've offered our full support to them. The situation is still unfolding. I've chosen not to call President Hollande because my expectation is that he is very busy at the moment. I was actually, by coincidence, talking to him earlier today in preparation for the G20 meeting, but I am confident in direct communication with him in the next few days and we'll be coordinating in any ways that they think are helpful in the investigation of what's happened. This is a heartbreaking situation and obviously those of us here in the United States know what this is like, we've been through these kinds of situations ourselves. Whenever these kinds of attacks happened, we've always been able to count on the French people to be there with us, they've been an extraordinary counterterrorism partner, and we intend to be there with them in that same fashion. I'm sure that in the days ahead we'll learn more about exactly what's happened, and my teams will make sure we are in direct communication with the press to provide you accurate information. I don't want to speculate at this point in terms of who is responsible for this. It appears as if there may still be live activity and dangers taking place as we speak, and until we know from French officials that the situation is under control and have more information, I don't want to speculate.
Image: Spencer Platt/Getty Images