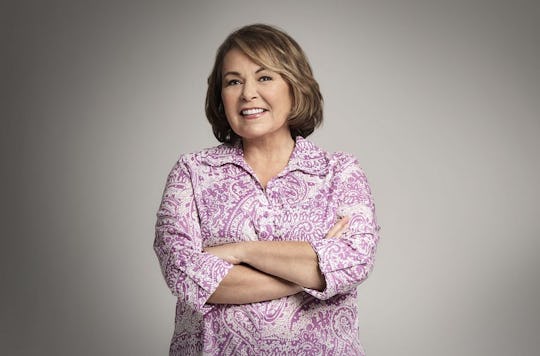 Robert Trachtenberg/ABC
Yep, Trump Called Roseanne Barr To Congratulate Her For 'Roseanne's *Yuge* Premiere
After nearly 20 years, new episodes of the 1990s sitcom Roseanne officially returned Wednesday night to TVs across the nation. And judging by the number of people who tuned in, it seems the Conner family was extremely well-received. Fans of the original series — which spanned from 1988 to 1997 — welcomed back all of the original cast members during the first two installments of the nine-episode reboot. In this day and age, though, Roseanne Conner is now a grandmother. (And did I mention that Dan Conner is somehow alive and well?) Another important detail: The family matriarch also happens to be a proud supporter of Donald Trump — just like Roseanne Barr is in real life. In fact, President Trump called Roseanne Barr to congratulate her for the Rosanne premiere, and Twitter has some thoughts.
The fact the Roseanne Conner is a Trump supporter was revealed to viewers during the very first episode of the ABC series reboot. So it isn't too surprising that the POTUS called Barr to offer his congratulations on the show's better-than-expected ratings. "It was pretty exciting, I'll tell you that much," Barr told Good Morning America of her call with the president. "They said, 'Hold please for the president of the United States of America' and [that] was about the most exciting thing ever. It was just very sweet of him to congratulate us." White House press secretary, Sarah Huckabee Sanders, confirmed that Donald Trump had, in fact, made a phone call to Roseanne Barr, The New York Times reported.
"I just wanted to have that dialogue about families torn apart by the election and their political differences of opinion and how we handle it," Barr told The New York Times earlier this week, of the decision to make Roseanne a Trump supporter. "I thought that this was an important thing to say at this time." During her interview with GMA, Barr spoke about why the Roseanne reboot was so successful during its premiere on Wednesday, Time reported.
The idea that people can agree to disagree is kind of missing from everything. That's what we need to do as a country, is figure out what we don't like, talk to each other and discuss how we're going to get it changed or fixed. I really hope it opens up civil conversation between people instead of just mudslinging.
Ratings aside, let's just say people have a lot of feelings about the whole situation — as apparent by "Roseanne" trending on Twitter. Plenty took to the social media platform to express their love for the reboot.
Others questioned Trump's priorities, after learning about his congratulatory phone call to Barr.
Some, like Piers Morgan, used the success of the Roseanne reboot to send a message "Trump-hating liberals."
However, Jared Yates Sexton explained the show's high ratings a little differently. "Roseanne is going to prosper because it might be the one thing that reassures the Trump base that they're justified and not intolerant," he wrote on Twitter.
In a recent appearance on Jimmy Kimmel Live!, Barr addressed her support for Trump. The late-night host brought up the fact that television critics were riled up about Roseanne Conner's support for the POTUS. Then, Kimmel asked the question many people had probably been wondering since the political revelation. "I'm shocked because I know you are a very socially-liberal person, in general," Kimmel said, according to Us Weekly. And her response?
I'm still the same, you all moved. You all went so f*cking far out, you lost everybody. I mean seriously.
Full disclosure: I did not tune into the reboot of Roseanne last night. And I definitely wasn't thrilled about the fact that Roseanne Conner is a Trump supporter. (Because to me, it seems to go against so many principles her character stood for in the past.) But still, the fact that politics — and especially the 2016 election/Trump's presidency — has caused rifts between so many families is an important topic. And that this show manages to tackle this reality a way that actually makes viewers laugh for a moment, instead of wanting to rip each other's faces off? You have to admit, that's nothing short of a miracle these days.