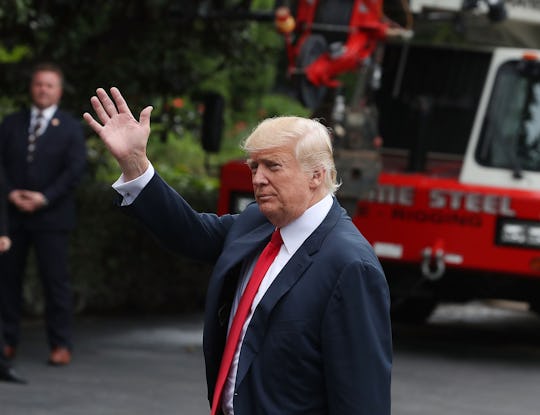 Mark Wilson/Getty Images News/Getty Images
President Trump Finally Condemns Racism After Charlottesville Violence
According to The New York Times, on Monday, President Donald Trump finally responded to white supremacist violence in Virginia, condemning racism and saying that "those who cause violence in its name are criminals and thugs, including the KKK, neo-Nazis, white supremacists, and other hate groups that are repugnant to everything we hold dear as Americans." This was after his initial response to the violence in Charlottesville sparked major criticism.
In a press conference Monday afternoon, Trump specifically stated, "Racism is evil," and condemned the white supremacists who incited violent demonstrations in Charlottesville on Saturday, according to The New York Times. The publication reported that many of the president's top advisers, including Chief of Staff John F. Kelly, encouraged Trump to issue a more forceful statement after previous comments on Saturday where he said the violence in Charlottesville was caused by "many sides." The statement prompted outraged in many who felt he needed to flatly condemn the white supremacist groups involved.
The fact that the president waited until Monday to condemn the hate groups also drew criticism, and although, according to Politico, Trump went on to say, "Those who spread violence in the name of bigotry strike at the very core of America" in his remarks, some people believed the response was too little, too late.
Politico reported that Attorney General Jeff Sessions and the new FBI Director Christopher Wray briefed Trump Monday before he made his statement, after other administration officials worked to defend Trump's first response to the weekend's violence earlier in the day. According to NBC News, in his first response to news of the violence in Charlottesville, Trump said:
We condemn in the strongest possible terms this egregious display of hatred, bigotry and violence on many sides, on many sides.
And it's the "on many sides" remark that drew strong criticism. In addition, according to NBC News, when asked later on to clarify the statement, a White House official said: "The President was condemning hatred, bigotry and violence from all sources and all sides. There was violence between protesters and counter protesters today."
So while Trump did finally condemn racism and racist groups in his remarks on Monday, it was only after he and his administration didn't specifically call out groups like the KKK that were involved in the bloody clashes over the weekend. And a lot of people weren't very happy that strong condemnation wasn't a part of Trump's response from the very beginning.
On Twitter, there were mixed reactions to Trump's press conference on Monday. Many pointed out the prolonged delay on the president's part in calling out groups like neo-Nazis, and racism in general.
And others felt that Trump shouldn't be praised for his remarks.
Even publications like The Guardian pointed out the fact that Trump's response came "days after violence" in Charlottesville. That publication also noted that Trump did not call Saturday's violence an act of terrorism, "as attorney general Jeff Sessions has done."
Trump finally condemning hate groups involved in the violence in Virginia is notable not because of what he said during his initial remarks, but because of what he didn't say. According to The Guardian, Trump was specifically asked after his first statement:
Do you condemn the actions of neo-Nazis? Do you condemn the actions of white supremacists?
But Trump ignored the question.
Still, this statement can be considered a step in the right direction. Trump faced a ton of criticism for not specifically naming the KKK, neo-Nazis, white supremacists, and other, similar groups in his first public response to the incident in Charlottesville. The fact that he finally did so on Monday is a good thing, even if many feel it's insincere, or that it came too late.