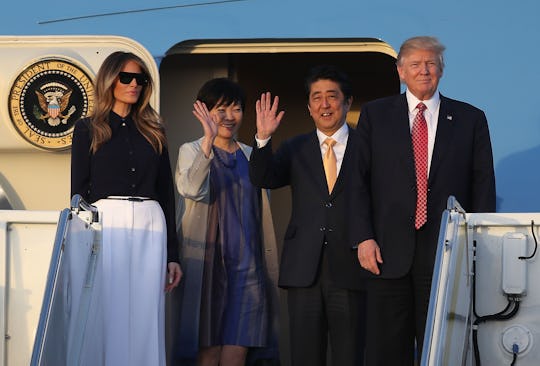 Joe Raedle/Getty Images News/Getty Images
Trump Held A Security Meeting At Mar-A-Lago
Prime Minister of Japan Shinzo Abe's visit with President Donald Trump has taken another turn after the two shared an infamously long handshake. Then, on Monday President Trump held a national security briefing with Abe at his club Mar-A-Lago regarding North Korea testing missiles. Many have said that the move was a serious security risk. The White House has not responded to Romper's request for comment.
On Saturday, North Korea aimed a test missile that successfully landed in the Sea of Japan, according to the Huffington Post. The news caused a shockwave because North Korea has been banned from launching missiles by the United Nations Security Council.
But the missile launch wasn't the only shocking news: Trump was notified of the international incident through a phone call on his private phone while dining with Abe at the swanky Mar-A-Lago club, which Trump has owned since 1985.
Several members of Trump's staff, as well as his wife Melania and Abe's wife Akie were present at the dinner, CNN reported. National Security Adviser Michael Flynn and chief strategist Steve Bannon brought documents to the president and the prime minister, and went through them together. Richard DeAgazio, a retired investor, was there that night and posted photos to Facebook showing what happened that night. DeAgazio has since deleted his Facebook page, according to The Washington Post.
"There wasn't any panicked look. Most of the people [on the terrace] didn't even realize what was happening," DeAgazio said in an interview with The Washington Post. "I thought he handled it very calmly, and very presidentially."
The photos show dinner was taking place outside, lit by candles. To read the documents, the staff used camera lights on their phones, CNN reported. Trump and Abe eventually moved inside to the club's ballroom, where they held a press conference condemning North Korea's actions. "I just want everybody to understand and fully know that the United States of America stands behind Japan, its great ally, 100 percent," Trump said at the press conference on Saturday.
Although the Mar-A-Lago club isn't exactly public since it costs $200,000 to join, the fact that the president openly talked about a security crisis in front of private citizens is far from the norm. Some are concerned about whether critical information being discussed at briefings is as secure at Mar-A-Lago as it would be at, say, the White House.
Trump didn't exactly go around showing everyday citizens classified documents, but for some this incident came close enough.
And the fact that Trump aides used their phone cameras and that Trump was on his private phone are raising other concerns. National security experts believe that Trump's unsecured Android phone would be easy to hack.
Nicholas Weaver, a computer scientist at U.C. Berkeley, told NPR that "for the longest time" Trump has been using an Android phone with no security. And Avi Rubin, a Johns Hopkins University computer science professor, told NPR that Trump's phone could be dangerous. "If President Trump is carrying around an unsecured Android phone, that's 1,000 times worse than using a personal email server," Rubin said.
DeAgazio said he didn't believe the meeting taking place in front of private citizens posed a security threat. "You don't hear anything. You can't hear," DeAgazio told The Washington Post. "I mean, I can barely hear what's going on at my table." Though you might not be able to hear with the unaided ear, could someone with a special listening device hear Trump's conversation? Those are the kinds of questions that are worrying politics and security experts when it comes to issues of national and international security.