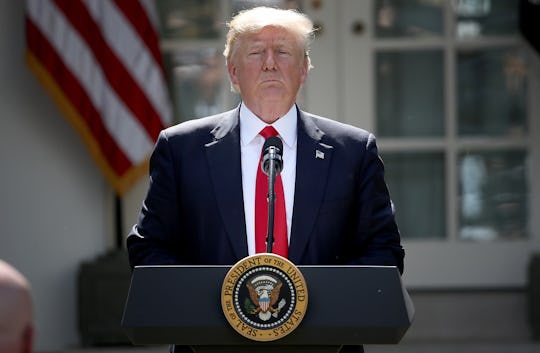 Win McNamee/Getty Images News/Getty Images
Trump Makes False Claims In London Attack Tweets
When a deadly attack takes place — such as the devastating one Saturday night in London, which killed seven people and injured dozens more — the world looks to its leaders for reassurance, guidance, comfort, solidarity, and a plan to prevent such tragedies moving forward. Those looking to the president of the United States for such a measured, proactive, and rational response to Sunday's attack, then, were left disappointed, as President Trump's tweets about the London attack were inappropriate and hugely inaccurate. Since learning that three as-yet publicly unidentified attackers plowed a van into pedestrians on the landmark London Bridge and began stabbing nearby bar and restaurant patrons, Trump has seized the opportunity to spread unverified information, hurl insults, promote his own political agenda, and mock political stances different from his own.
This round of news-pegged Trump tweets launched with a retweet very soon after the suspected terrorists, whom police quickly fatally shot, began their coordinated attack shortly after 10 p.m. local time. The president retweeted a tweet from the Drudge Report — a far-right outlet "better known for sensationalism and partisanship than for accurate reporting," The Guardian's Julian Borger wrote — which stated 20 people had been "mowed down" on the London Bridge. Press Secretary Sean Spicer did not tweet that the president had been briefed on the situation until 17 minutes later — perhaps part of the reason NBC News did not relay the information in the report the president had retweeted, stating that it was "unconfirmed."
And the president still had a lot of tweeting to do. "We need to be smart, vigilant and tough," he wrote in his next tweet. "We need the courts to give us back our rights. We need the Travel Ban as an extra level of safety!" Of course, there's no evidence yet that the type of "travel ban" of people from six Muslim-majority countries into the United States that the Trump administration has tried to impose here would have stopped what happened in London. (After various lower courts struck have ruled the ban unconstitutional, Trump's Justice Department has asked the Supreme Court to review it.)
Trump did at least reaffirm the country's commitment to working with the British government to confront terrorism, tweeting, "Whatever the United States can do to help out in London and the U. K., we will be there - WE ARE WITH YOU. GOD BLESS!"
But the president wasn't finished. On Sunday morning, Trump took to his Twitter account again (echoing reports on Fox and Friends, no less) to blast the London mayor himself and complain about political correctness.
"At least 7 dead and 48 wounded in terror attack and Mayor of London says there is "no reason to be alarmed!" Trump tweeted, referencing Mayor Sadiq Khan, who had been granting interviews and putting out statements throughout the night to assuage the fears of Londoners and the world. To say it was a totally misleading and non-constructive statement that served no purpose but to sow distrust in leadership unnecessarily and promote misinformation would be an understatement.
According to The Guardian, that's because Khan never said there was "no reason to be alarmed" during either his television interview Sunday or in his overnight statement on the attack. Instead, the outlet reported that Khan had actually said there was "no reason to be alarmed" following a different attack in March. The mayor was also very clearly not talking about citizens being "alarmed" over any terrorist attacks at that time; Rather, Mayor Khan had been referring to the increased police presence that Londoners would see in subsequent months.
In response to the misinformation on Sunday, a spokesperson for the London mayor issued a statement saying that Khan "has more important things to do than respond to Donald Trump's ill-informed tweet that deliberately takes out of context his remarks..."
Of course, Trump rounded off his tirade (for now), by mocking the very idea of stricter gun control legislation. "Do you notice we are not having a gun debate right now?" he wrote, as though the emergence of a type of violence that does not include guns (which are much less readily available in the United Kingdom than the United States, anyhow) means that advocating for gun safety legislation is somehow pointless. "That's because they used knives and a truck!"
None of those things are what the world needs now, the day after a terror attack, or any other day. Picking fights with other leaders over false information and making nonsensical arguments for personal political positions based on fresh tragedy isn't just crude, it's downright inappropriate. And the U.S. president should know better.