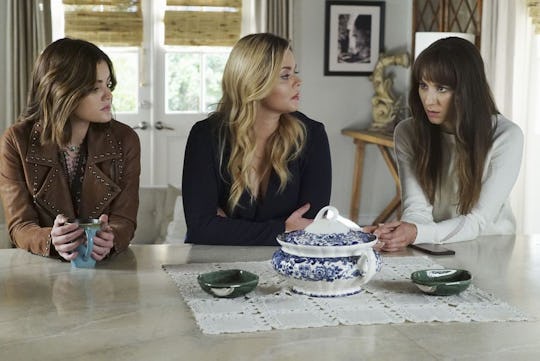 Ron Tom/Freeform
'Pretty Little Liars' Season 7B Clues From Social Media That Will Leave You Screaming
When it comes to Pretty Little Liars the hunt for clues and theories never ends, not even when the show goes on hiatus. With the first half of Season 7 almost over fans are already looking ahead to what's next for the Liars and you'll find the best Pretty Little Liars Season 7B clues on social media. Between Shay Mitchell and Ashley Benson's Snapchats, I. Marlene King's Tweets and Instagram posts, and so much more, there's a lot to be discovered about what will happen next on PLL.
Recently the Liars have been through a lot. After the death of Charlotte they've been targeted by the mysterious and ever elusive A.D. who may or may not have been working with Ali's husband, who's real name is Archer Dunhill. On top of that Ali's long lost aunt and Charlotte's mother, Mary Drake, showed up in Rosewood and the Liars discovered that she also had another secret child that is around their age. Add in the fact that Jenna, Noel, and Paige are back in Rosewood, and Sara Harvey is now dead and it's been one heck of a season thus far. So what happens next? Here's just a few clues from social media that indicate what will go down in the second half of Season 7B.
Pastor Ted Is Back
In the lower right of I. Marlene King's picture you can see Ted Wilson, also known as Pastor Ted, is at a table read for Season 7B. It looks like the Pastor will be back along with Spencer's dad, Peter Hastings.
Wren is Also Returning
Back from England (supposedly), Wren is finally returning to Rosewood and he's probably going to be stirring up some trouble. It's unclear what brings Wren back to town but it's probably nothing good.
Spencer Has A Twin?
PLL fans have been theorizing a lot about whether or not Spencer is Mary Drake's other child and if maybe Spencer has a secret twin. This photo King posted of Troian Bellisario on the set of Season 7B with the caption, "I spy a Spencer," seems to indicate that there's more than one Spencer. So is the twin theory true...again? Unfortunately we'll just have to wait and see.
Caleb Gets Hurt
Based on Ashley Benson's SnapChat video, it looks like Caleb will be hurt in Season 7B or in the summer finale. On set we see Caleb in what looks like a hospital with bruises on his face.
Toby Might Be Alive
There's been a lot of rumors about Toby dying the midseason finale. This is because although Keegan Allen, who plays Toby, does appear in a few Snapchat videos from the set of Season 7B but he then later disappears from all the stars' Snaps. Does that mean he's in the first few episodes and then something happens to him? Or was he just visiting the set at the start of the filming of Season 7B and then stopped coming because he's not really a part of the show anymore? It's all a mystery but hopefully we'll get some answers on Tuesday night's episode.