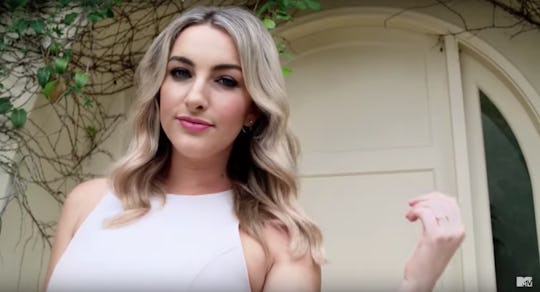 MTV
Here's What To Expect From 'Pretty Little Mamas' Star Nicole's Instagram
Pretty Little Mamas premiered last month on MTV and as fans are getting to know the young San Diego mom squad, they're also learning that these young women are already masters of lifestyle branding. Pretty Little Mamas star Nicole's Instagram, for example, is heavily inspired by one of her all time favorite role models for young motherhood: Kylie Jenner. "It is so inspiring to see her have such a successful career with her cosmetics line and just being entrepreneur as a woman and a young mom," Nicole told People ahead of the premiere.
The series follows a group of five moms, most of whom have been friends since high school and whose relationships have strengthened in their twenties due to the common bonds of motherhood. Although each of the "Pretty Little Mamas" had kids young, most of them have financial support from their families, which allows them to pursue their career dreams and balance motherhood at the same time. It's a unique position that not many twenty-somethings are in, so for the cast of Pretty Little Mamas to use their privilege to trail-blaze new paths for young moms is pretty unusual. Nicole, for example, is a proud UCSD alum and is currently getting her masters at USC — both schools are proudly shouted out in her Instagram bio.
She and her daughter Noelle, who just started kindergarten, live with Nicole's parents and she also has the benefit of a full-time nanny to help out while she juggles school, a new (questionable) boyfriend, and the stresses of living at home. The show has raised some questions about how realistically it really portrays motherhood, but the good news is, Nicole is taking that criticism with a grain of salt.
"Of course there's going to be things said about any way a parent raises their child, no matter what age they are, so I think you just have to take it in stride," she told People. "All that matters with me is my relationship with my child. I know that all of us are great moms."
And besides many adorable snaps of Noelle, Nicole's Instagram looks just like any other 25-year-old influencer's, proving that moms can juggle kids and empire-building with good support. Along with plenty of photos of Noelle and Nicole at Disneyland (they live just a few hours away, after all), she's also in the middle of carrying out maid of honor duties for a friend, and gets in her fair share of traveling. But there's a lot more to know about Nicole than what's on her social media.
According to Us, viewers can expect Nicole's storyline to dive a lot deeper. She told the outlet, "Being a single mom is not easy! We have to stick together and gain strength from one another. She also wants to make it clear that she not a "teen mom stereotype." One of the things viewers can expect to learn about Nicole is the story of Noelle's father, which she worries about telling her young daughter.
New episodes of Pretty Little Mamas air Thursday nights on MTV.