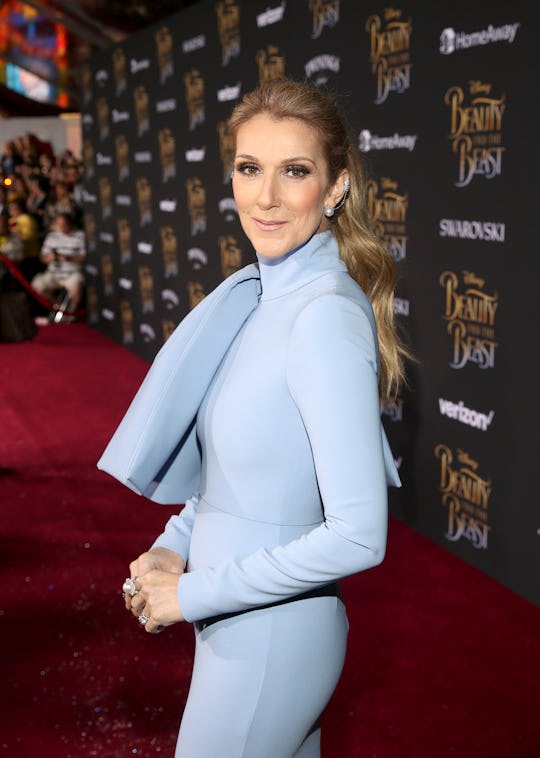 Jesse Grant/Getty Images Entertainment/Getty Images
Priest Calls Celine Dion's Gender Neutral Clothing Line For Kids "Satanic"
Celine Dion's newest business endeavor has garnered a lot of attention and admiration. However, one Pennsylvania priest's thoughts on Celine Dion's gender-neutral clothing for kids are quite the opposite. In fact, in an interview with the National Catholic Register, he called the line "satanic" and claims that her efforts to erase stereotypical onesies and shirts is nothing short of "demonic."
The whole flap originated over Dion's partnership with minimalist clothing designer nununu, which bills itself as "kids trendy boutique clothing." The website features a link to photos of celebrities' kids wearing the line, which should tell you something about its popularity.
Dion's line of infant and kids attire is called, cutely, Celinununu, and features clothes in black and white, with geometric shapes, skulls, and words. The line's description on the website reads: "unites two forces by one voice: fashion has the power to shape people's minds. Inspire your children to be free and find their own individuality through clothes."
Patti Armstrong, a writer for the National Catholic Register, did a blog post about the line for which she reached out to Scranton-based priest John Esseff. She described him as a priest and an exorcist who founded the Pope Leo XIII Institute, which trains exorcists.
Esseff had some archaic, dark, and downright puzzling thoughts about the message Dion's clothing line is sending to children.
"I'm convinced that the way this gender thing has spread is demonic, It's false. I don't even know how many genders there's supposed to be now, but there are only two that God made. The devil is going after children by confusing gender," he told the National Catholic Register.
He continued in the same interview about the clothing line, "When a child is born, what is the first things we say about that child? It's a boy, or it's a girl. That is the most natural thing in the world to say. But to say that there is no difference is satanic... People behind this are influencing children to disorder... This is definitely satanic. There is a mind behind it — an organized mindset."
Setting aside the belief that an exorcist is likely to see a demon hiding under every bush, experts have studied the way gender roles impact a child's development and carry into adulthood — and the news isn't good. For instance, according to USA Today, one study found that the myth that girls must be vulnerable while boys are strong is entrenched during adolescence and actually contributes to patriarchy around the world. And clothing lines have been taking note of this damaging ripple effect, offering gender-neutral clothes for kids at outlets like Target and Abercrombie & Fitch Kids, according to Vox.
Though the style and aesthetic of Dion's line may not be for everyone, she is on to something: Gender stereotyping can have lasting and damaging impacts on children, leading to rigid expectations about everything from behavior to capability to employment. And one study in the Journal of Adolescent Health found that interventions are starting too late, according to CNN.
"Adolescent health risks are shaped by behaviors rooted in gender roles that can be well-established in kids by the time they are 10 or 11 years old," lead researcher on the Global Early Adolescent Study told CNN. "Yet we see billions of dollars around the world invested in adolescent health programs that don't kick in until they are 15, and by then, it's probably too late to make a big difference."
That's not to say that the Celinununu line is entirely free from critique; it is on the pricier side, with onesies on sale for $35 and playsuits for $45, for example.
But demonic? Seems like a far, far cry from that.