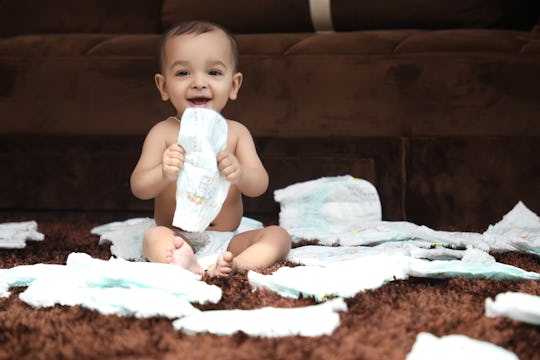 Shutterstock
Save $15 On Pampers Baby Dry Diapers (Plus Wipes!) On Prime Day With These Deals
Raising babies isn't cheap, and one of the biggest recurring expenses is diapers. When a great sale pops up, jumping on it can save you tons of cash. Amazon is offering some amazing Prime Day diaper deals that are so worth stocking up on.
In the newborn stage, you can easily go through a dozen or more diapers a day, which can mean a case or two a month. Investopedia estimated that the total for the first year is well over 2,000 diapers, which will likely cost you well over $500. If you've got multiple kids in diapers at the same time, your expenses will run even higher. I've tried all sorts of different brands in order to strike the right balance between quality and cost, but the most effective strategy I've found to save money on diapers is to simply take advantage of every sale that I come across — even if it means emptying out entire closets to keep the cases of diapers until they're needed. Diapers don't have an expiration date, so there's no real risk other than your kiddo growing out of a certain size.
These Prime Day deals are worth stocking up on, so get ready to clear some storage space.