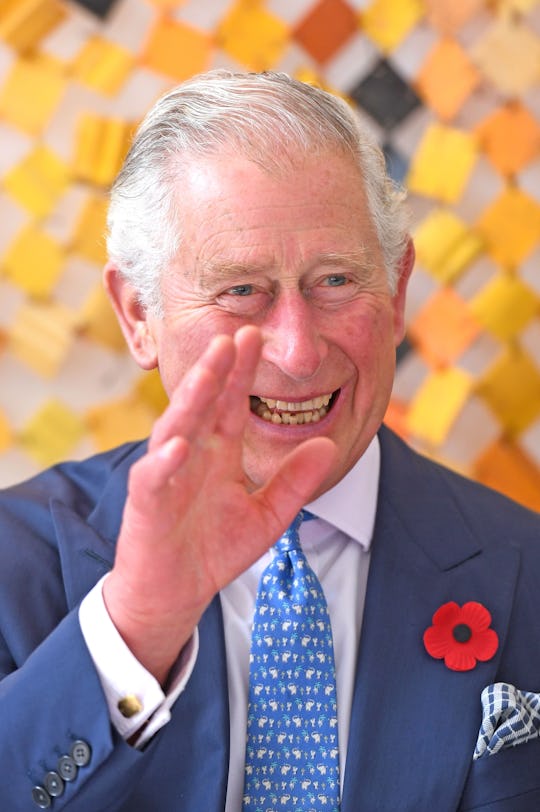 WPA Pool/Getty Images Entertainment/Getty Images
Prince Charles Had A Small Problem When He Tried To Buy Gifts For His Grandkids
The British royal family may be dressed a tad better than regular people and take nicer trips, but they often make the same silly daily mistakes as the rest of the world. And when Prince Charles bought Prince George and Princess Charlotte gifts while he was on vacation, it turned into a totally relatable grandpa fail.
As Harper's Bazaar reported, the Prince of Wales, while on a tour of the South Pacific with the Duchess of Cornwall back in April, wanted, like most grandparents, to get a little something for the little ones back home. In this case, that would be Prince George, 5, and Princess Charlotte, 3, the magazine outlined. (Little Prince Louis would be born later in the same month, according to Australian Vogue.)
"I'm wondering whether to buy a pig or not," Charles told his companions, according to Hello! magazine, while in the South Pacific nation of Vanuatu, a now-independent island nation with former ties to the UK, according to Brittanica.com. "They're rather nice. Children always love those don't they, pigs?" the prince asked his entourage.
When it came time to complete the purchase, however, there was only one problem: The heir to the British crown didn't have cash on him, according to Hello!.
Harper's Bazaar added that the grandparent gaffe has come to light months later due to being incorporated into a new documentary, Prince, Son and Heir: Charles at 70. As the doc relates, Charles' protection officer and private secretary had to intervene and advance the royal enough money to complete the transaction. Those are some helpful employees, no?
As Britain's Express newspaper explained, the vignette is included in the BBC's new doc on the royal, airing this week on BBC One. The show (which hopefully will follow in the footsteps of past royal documentaries and air across the pond soon, come on, guys), corresponds with celebrations to mark the Prince's big 7-0 birthday on Nov. 14, the paper added in another article.
The Express added that the Prince had an excellent relationship with his own grandma, the Queen Mother, and as such, Charles is close to William and Kate's kids. "The great thing is to encourage them," the paper quoted Charles as having explained. "Show them things to take their interest. My grandmother did that, she was wonderful. It is very important to create a bond when they are very young."
This is a fascinating tidbit about a royal who, coming from an older generation, always seems a bit more formal on camera than his sons and their wives.
It's fun to surmise the grandparent-grandchild relationships at the palace, and, as Hello! magazine revealed, William and Kate's kids have a nickname for Charles: Grandpa Wales (as in, "Prince of"). The Prince, who is known for his environmental work, recenty said that, with Prince Harry and Duchess Meghan's first child on the way next Spring, he's concerned about the planet the royal baby will inherit, as the Telegraph reported.
"It does seem to me insanity if we are going to bequeath this completely polluted, damaged and destroyed world to them. All grandchildren deserve a better future," Charles said this week during an official visit to Ghana, according to the publication.
I couldn't agree more. But hopefully the next time he goes to dote on his beloved grandchildren, he'll be sure to bring his wallet.