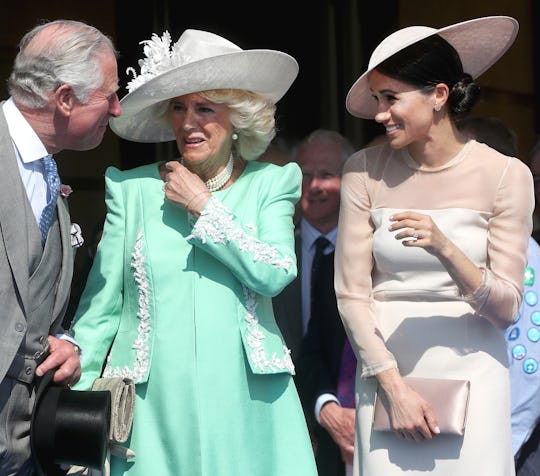 Chris Jackson/Getty Images Entertainment/Getty Images
Prince Charles Has A Pretty Surprising, But Adorably Fitting Nickname For Meghan Markle
A newlywed usually has some concerns about fitting in with their new extended family, but if this is any indication, the Duchess of Sussex, Meghan Markle is killing it with her new in-laws. As it turns out, Prince Charles apparently has a nickname for Meghan Markle, and while it's quite surprising, it's also very adorable and seems totally fitting for the actress-turned-royal.
The elder prince, who is Prince Harry's father, reportedly looked to Markle's strength of character for his inspiration when he dubbed her "Tungsten," according to the Daily Mail. Tungsten is a silver-white metal, that is super dense and almost impossible to melt, according to Live Science, which notes that it's one of the toughest substances around. The Daily Mail noted that the affectionate name is meant as a compliment, not criticism, to the fact that she is tough and unbending.
The prince seems to think Markle is the perfect fit for his son, Prince Harry, who in the past had a bit of a reputation as a partier, according to Refinery 29. A source told the Daily Mail that Markle is exactly the kind of woman the prince would choose for his son. "Prince Charles admired Meghan for her strength and the backbone she gives Harry, who needs a tungsten-type figure in his life as he can be a bit of a softy," the source reportedly told the Daily Mail. "It's become a term of endearment."
Markle showed her own affection for Prince Charles when she asked him to stand-in for her father, who was unable to attend the ceremony due to surgery, according to CNN. And Prince Charles' affection for Markle was clear during the wedding ceremony, never more so than the moment when he escorted her mother, Doria Ragland, to watch the bride and groom sign the registry, according to TIME. As the prince walked by Ragland, who was sitting alone, he held out his hand to her and she reached out and took it to help herself down the step. She then switched hands and they walked out of the room like that together in a touching display. No doubt when Markle saw the moment later on she was touched.
Prince Charles' nickname for Markle is not the first time Markle's strong personality has been discussed. When the joint royal engagement interview with the BBC was conducted last November, some people noticed Markle's ability to hold her own in front of the camera as an almost-royal. In fact, Newsweek spoke with a body language expert, Judi James, who gave a positive assessment of the future Duchess, saying:
The standout thing was that Markle subtly and not-so-subtly did tend to take control and dominate — in a good way — both the photo call and the interview that they did.
But that doesn't mean Markle doesn't need her prince as she navigates a whole new spectrum of etiquette and propriety in the royal family. During her appearance beside her husband at Queen Elizabeth II's birthday parade, Trooping the Colour, Markle was spotted whispering a question to Prince Harry about when it was time to curtsy to the queen, according to Glamour. Later, Prince Harry was seen checking on her and asking her if she was OK, to which she reportedly replied, "Yeah, are you?" before admitting to her husband that she was nervous, according to Glamour. This, for dozens of other reasons, is why everyone loves this girl. Just that right combination of rock solid and sweetly innocent.
So as it seems, Markle's less-than-official nickname is out of the bag and it could not be more adorable or more fitting when you think about it. Just don't look for it showing up her royal stationary anytime soon