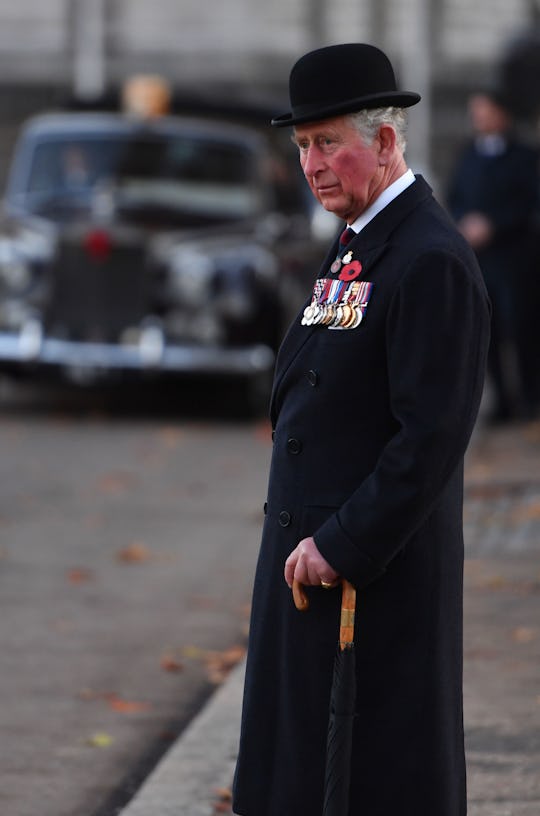 WPA Pool/Getty Images Entertainment/Getty Images
Prince Charles' Quotes On Becoming King Show He's Prepared For The Role
by Christina Montoya Fiedler
Prince Charles turns 70 years young on Nov. 14 and aside from celebrating with the usual birthday fanfare, his subjects may be thinking about the future of their monarchy. This birthday, in particular, makes Prince Charles the longest serving Prince of Wales in the history of the United Kingdom. So, what of becoming king someday? He's gabbed about it plenty. Prince Charles' quotes about becoming the next king show that he's prepared for the role.
Queen Elizabeth II is 92 years old, and from the looks of it, she has no plans of slowing down. Prince Charles will take the thrown when she abdicates, retires, or dies, according to The Sun. When the time comes, he'll also be the oldest monarch to accede the thrown. Following him, the next in line is his eldest son, Prince William.
Prince Charles has had a number of things to say about himself and his future role over the years, and one thing people have learned is that Prince Charles has always had a sense of humor.
"As long as I do not take myself too seriously I should not be too badly off," he said in a letter that he wrote soon after being invested as the Prince of Wales in 1969, The Telegraph reported.
And, he knows what being the king means for himself and the people. Speaking in a recent documentary, Queen of the World, Prince Charles spoke a lot about what it means to be king and the responsibility that comes along with it, according to the Express.
"People don't always understand about the concept of duty. I think a lot of the time you have to be brought up to understand what it actually means. Minding about other people, minding about what happens in this country and the Commonwealth, and that's the only way, all the masses of people who need to be encouraged and thanked."
Prince Charles is notorious for having strong views on seemingly polarizing issues like global warming, endangered species, organic farming, and more. And, he's promised that if or when he becomes king, he would steer clear of taking sides.
For instance, he once wrote a strong-worded letter to former Prime Minister Tony Blair to try and influence his decisions on the future of agriculture policies, according The Guardian, but he knows that he couldn't do the same sorts of things in his new role.
He vowed not to be a "meddling" or activist king. "I'm not that stupid," he said in a recent BBC documentary entitled Prince, Son and Heir, Charles at 70.
You can't be the same as the sovereign if you're the Prince of Wales or the heir. But the idea somehow that I'm going to go on in exactly the same way if I have to succeed, is complete nonsense because the two situations are completely different. You only have to look at Shakespeare plays, Henry V or Henry IV part I and 2, to see the change that can take place. Because if you become the sovereign then you play the role in the way that it is expected. So, clearly I won't be able to do the same things I've done as heir. So, of course, you operate within the constitutional parameters. But it's a different function. I think people have forgotten that the two are very different.
Translated into common people speak, this means he knows there's a way he can behave as a prince versus how he should act as a king.
It's hard to say when Prince Charles will officially become King. Until then, Prince Charles will continue to work as a full-time royal, running almost even with his sister Prince Anne for undertaking the most number of engagements, according to People.
Prince Charles has clearly been preparing for his future role for a long time, and though it may still be awhile before he makes the transition, it's something he seems ready to take on.