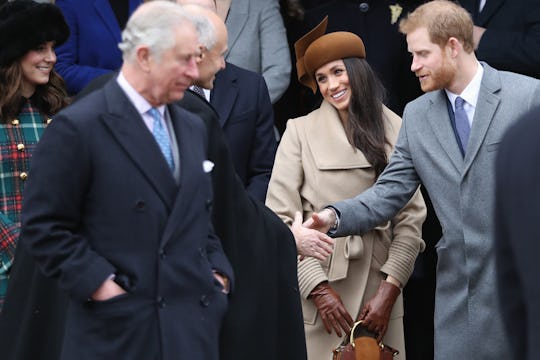 Chris Jackson/Getty Images Entertainment/Getty Images
Prince Charles' Greatest Concern For His Grandkids Is Something We Should All Care About
A royal baby is on the way and along with feelings of excitement and anticipation, some in the royal family are feeling a bit nervous — and for good reason. In particular, Prince Charles' worries for Meghan Markle and Prince Harry's child have to do with the world they will be born into. Like many others, Prince Charles is concerned about the ways in which pollution and lack of environmental conservation will impact the generations that follow him.
While speaking on Monday during a visit Ghana, Prince Charles opened up about his personal reasons for wanting to combat pollution. "I am about to have another grandchild actually. I suspect quite a few of you may too have grandchildren or will do soon," he said, as People reported. "It does seem to me insanity if we are going to bequeath this completely polluted, damaged and destroyed world to them."
And while he is likely overjoyed about Prince Harry and Markle's coming baby, it is not just his own children that Prince Charles is worried about, though. "All grandchildren deserve a better future," she said according to The Telegraph. And while he did acknowledge that "a good start has been made," it is simply not enough.
The Sun reported that Prince Charles went on to discuss the pressing issue of ocean plastic:
A good start has been made. The matter of plastic debris in the environment, in particular the ocean, is now on the agenda. We do, however, need to keep it there as the amount of plastic entering the ocean every year is, unbelievably, set to get worse rather than better. We cannot, indeed must not, allow this situation to continue.
And as he pointed out, according to Country Living, there is an achievable solution that must be made a priority. Not only should efforts be made on behalf of the children, but "...above all, for the long-term viability of all those species in the sea which are already suffering unbearably because of our actions," Prince Charles said, according to Country Living.
Prince Charles isn't the only powerful leader who has referenced children as cause for conservation. In his 2015 State of the Union Address, President Barack Obama pointed to climate change as the greatest threat to future generations. According to the United Nations Framework Convention on Climate Change, he said:
2014 was the planet's warmest year on record. Now, one year doesn't make a trend, but this does – 14 of the 15 warmest years on record have all fallen in the first 15 years of this century.
Similarly, World Health Organization Director-General Margaret Chan explained in a statement that children are uniquely susceptible to the dangers of pollution.
A polluted environment is a deadly one — particularly for young children. Their developing organs and immune systems, and smaller bodies and airways, make them especially vulnerable to dirty air and water.
The first WHO report, Inheriting a Sustainable World: Atlas on Children's Health and the Environment, determined that 1.7 million child deaths a year are caused pollution. Additionally, the majority of diseases that kill young children around the world can be prevented by environmental change.
Numerous studies have found that air pollution, in particular, is negatively impacting children across the globe. According to a 2017 air pollution study published in JAMA Pediatrics, reported that unclean air makes babies age faster. Another study, published in Biological Psychiatry this past March, linked air pollution to negatively impacted fetal growth and brain development. Along with these risks, the British Lung Foundation listed impaired lung function, asthma, wheezing, coughs, lung cancer as adults, and infections like pneumonia as potential results of breathing polluted air as children.
These are the issues that our children, and their children, will face in coming years. Prince Charles is concerned about what people can do to help — and you should be, too.