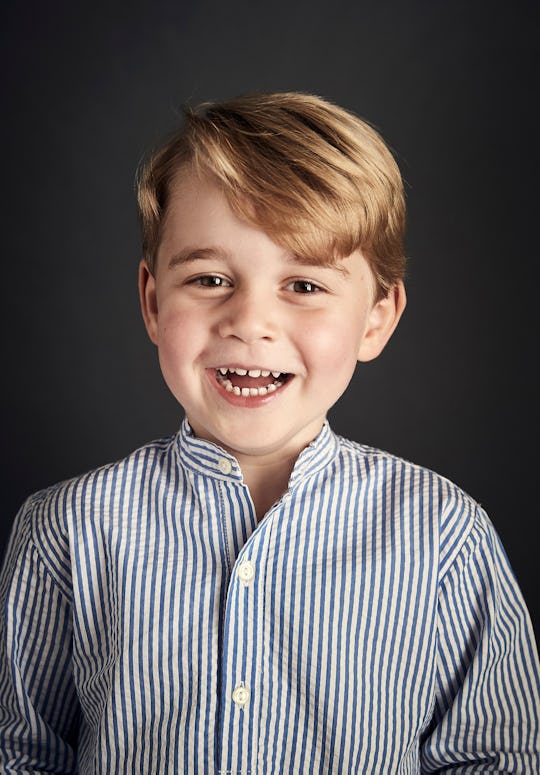 Handout/Getty Images Entertainment/Getty Images
Prince George Just Experienced A New Family Tradition... & It Involves Birds
The United Kingdom's royal family is all about their traditions. And the youngest generation of royals — Prince George, Princess Charlotte, and Prince Louis are currently figuring them all out. And over the weekend, Prince George experienced a new family tradition, which is one that he may or may not take a liking to because it involves birds. Yep, birds.
At just 5 years old, Prince George (aka the person that is third in line to inherit the royal British throne) is learning a lot — both in school and out of school. And his newest royal appearance was definitely a learning experience since it was the first time he's attended such an event, according to People. This weekend, Prince George's parents — Prince William and Kate Middleton — his siblings, along with other members of the royal family (including the Queen) visited Balmoral Castle in Scotland, according to ELLE. But this wasn't an average family vacation; Prince George was introduced to one very unique royal family tradition — grouse hunting, according to People.
Prince George reportedly joined his older relatives for his first ever grouse hunt, according to ELLE. Although it might not be the most ideal activity for a 5-year-old, he did get to enjoy some family time ahead of his first day of school. (Here's a photo of the family taken while in Balmoral.)
Even though there are no photos from the hunt (this hunt did take place on their family vacation, after all), based on everything people know about Prince George and his personality, it's easy to determine that Prince George probably had a blast embarking on this new adventure with his family.
If you're learning about a grouse hunt for the first time (just like Prince George is) — here's a lowdown. It's currently grouse hunting season in the United Kingdom, according to the Telegraph, which begins on Aug. 12 every year. Although they sound similar, grouse are not geese. Grouse are known as the "king" of game birds and require a "high level of skill" to shoot, according to the Telegraph. And this is a pastime that the royal family clearly enjoys; they go on these trips year after year, according to the Daily Mail, and it's one of Prince Phillip's favorite activities.
Balmoral Castle is a special place for the royal family — the queen typically spends her summer there, according to People, and it has served as a retreat for her family members throughout the summer months for the past 150 years. The queen reportedly does a lot of entertaining at the castle, according to the Daily Mail, including going on their annual grouse hunt.
With summer winding down and vacations with family concluding, Prince George is headed back to his school, Thomas's Battersea, on Sept. 6, according to AOL, for his second year of classes. With that being one week a few days away, surely Prince George is trying to embrace all of the time he has left of his summer vacation before he gets back to having a strict schedule, spending his days inside, and wearing a school uniform.
The royal family is definitely full of unique traditions — for example, the queen celebrates her birthday twice a year — and grouse hunting definitely falls under that "unique" category. But these traditions are what make the royal family so special and interesting to follow.
After attending his first grouse hunt, it's safe to say that Prince George is officially and truly growing up and, honestly, it feels like it happened over night.