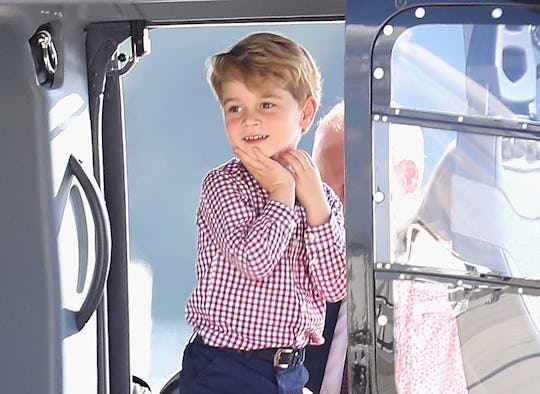 Chris Jackson/Getty Images Entertainment/Getty Images
Here's How To Dress Your Kid Like Prince George (The Cutest Style Icon) On A Budget
If you need some style inspiration for your son, then look no further than the Royal Family. Seriously, using Prince George as fashion inspiration for your own kid is a pretty safe and stylish bet. The kid can wear a look like no one else, after all.
Similar to the Kate Middleton effect on women's fashion, it looks like there's also a Prince George effect in boys' fashion. Plenty of magazines and blogs are devoted to covering the little one's style. For the most part, his clothes are classic, well put-together, and understated.
Of course, Prince George has been known to break some serious fashion rules as well. In fact, by wearing pants for the first time to Prince Harry and Meghan Markle's wedding, Prince George bucked a British tradition, as noted in Business Insider. Boys typically don't get to wear long trousers until they are about seven or eight years old, but the 4-year-old Prince George pulled off the look flawlessly. Perhaps there will be a new trend toward pants for the younger guys in Britain soon.
It was hardly Prince George's first turn as a fashion renegade, however. He straight-up met President Obama while wearing a bathrobe and pajamas, as noted in TIME. It was a pretty baller move, but somewhat understandable due to the fact that he was two years old at the time. Actually, the whole scene was beyond adorable.
There's one thread through all of Prince George's outfits, though, and that is a reliance on the classics. Really, most of his clothes are pretty timeless and elegant, even when they're sized down for the preschooler set. Read on to find some new fashions fit for your own little prince.