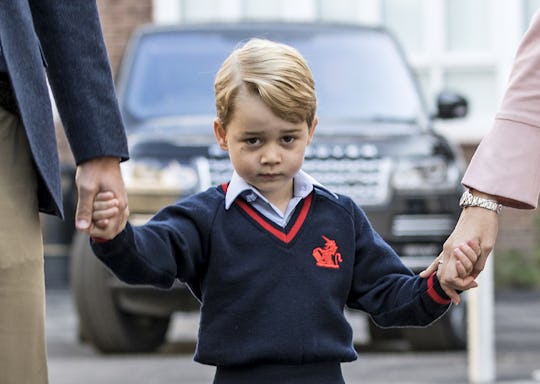 RICHARD POHLE/AFP/Getty Images
Apparently, Prince George Is Totally Over Going To Kindergarten
Going to school is never fun. Sure, you are there for a purpose — to learn incredibly important lessons that will stick with you and carry you throughout the rest your life well into your career. But between the rigorous lessons and mountains of homework each day, grade school can be monotonous. Normally, kids don't figure this out until a little later in their lives. But already Prince George is reportedly fed up with kindergarten, and I am sorry to say that he is in for a very rude awakening.
Someone will have to tell the little prince that he not only has to go to kindergarten every day but he has to go to school every single day (with the exception of summers and holidays) until he is 18. If he is this fed up with school now, then how will he be when he enters middle school? And can you imagine how fed up he will be with his high school regimen?
Poor Prince George. At just 4 years old, according to his father, Prince William, he has had enough of school. During a visit to Milton Keynes, according to HuffPost, Prince William said to a fellow parent, "I just dropped George off [at school] and he didn't want to go."
I've been in Prince George's shoes plenty of times.
Prince William would know that his son isn't having the greatest time at school. According to The Telegraph, Prince William has been taking his son to school each morning — and after starting school at Thomas's Battersea in the beginning of September, Prince George is more than likely realizing how taxing it can be. But even after his first day, Prince William was hopeful that his son was enjoying school. Prince William said during a public appearance after Prince George's first day, according to E! News, that it had been a good day:
There was one other parent who had more of an issue with their children, so I was quite pleased I wasn't the one! It was really nice, actually. It was a nice school.
But there could be a very good reason why Prince George is so over kindergarten — and it has nothing to do with the existential dread of having to remain in class for more than 12 years. According to TODAY, Prince George's school encourages students to not have a "best friend" but be friends with everybody. Jane Moore, host of British talk show, Loose Women, has a child who goes to his same school, and explained on her show, according to TODAY:
There are signs everywhere that encourage you to be kind, that's the ethos of the school. They don't encourage you to have best friends.
But that is more than likely not the reason why Prince George is hesitant to go to school. According to HuffPost, at his young age, Prince George is already learning wide range of subjects at his school (including ballet) and serves lunches with items like salmon fillet. Yum.
Let's be real, Prince George leads a pretty nice life when he isn't in school. Between trips to meet the president and hanging out with the Queen of England in your day to day life, kindergarten pales in comparison.
And there is some science behind his reluctancy, too. A 2015 study conducted by Stanford University found that a one year delay in enrollment in kindergarten (aka starting kindergarten at an older age) resulted in many mental health benefits. The includes lower levels of inattention and hyperactivity, which was a key indicator of self regulation — and these benefits lasted up until the early pre-teen years of participants.
Another 2016 study conducted by Michigan State University found that many children are still learning to control their behavior when they enter kindergarten and could need some extra support in school, especially when it comes to developing self control, according to Science Daily.
But it seems like Prince George is getting plenty of support in his studies — even in kindergarten. Ben Thomas, former headmaster of Thomas's Battersea and current principal of Thomas's London Day Schools told E! News just how the school would support him at his young age:
The whole aim of these precious years of early education is to give children confidence. We are not going to try to mold them into any particular person. We want him to have the confidence to be himself with all of his quirks, idiosyncrasies, and characteristics.
Prince George sounds like he's in great hands. Like all kids (myself included) who have ever been reluctant to go to school, he will definitely learn to get used to it, and maybe learn to love it, too. He'll certainly have plenty of time to do so.
Watch Romper's new video series, Romper's Doula Diaries:
Check out the entire Romper's Doula Diaries series and other videos on Facebook and the Bustle app across Apple TV, Roku, and Amazon Fire TV.