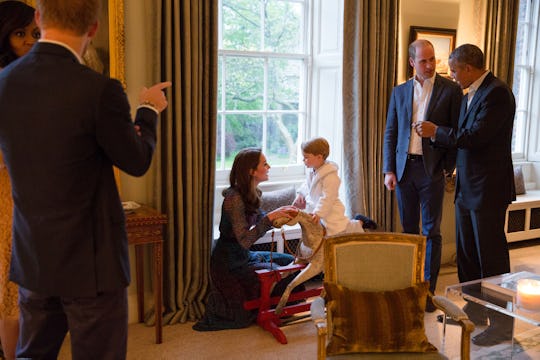 The White House/Getty Images Entertainment/Getty Images
Prince George Is Taking Horseback Riding Lessons... & The Obamas May Have Seen This Coming
As if he wasn't already cute enough on foot, the Daily Mail reported that Prince George is now taking horseback riding lessons, so brace yourself for the utterly adorable photos that are bound to be coming out soon. The future king, who turns 5 this summer, has reportedly been learning to ride on a Shetland pony borrowed from his cousin, Zara Tindall. He didn't seem all that interested in trying the sport when his father, Prince William, sat him atop another pony two years ago at a children's party in Canada (see his less than enthusiastic reaction below), but it seems that now he's finally taking an interest in one of the family's favorite pastime.
Prince George was born and raised to be an equestrian; several members of the royal family are accomplished riders, and even his friends across the pond have seemingly been nudging him in that direction. On the occasion of his first birthday in 2014, President Barack Obama sent the little prince a handmade rocking horse with the presidential seal on the saddle, as well as alpaca wool blanket, and a polo mallet carved from an oak tree grown on the White House's South Lawn, according to Time. Now the rocking horse might be retired (or passed on to Prince Louis), but the polo mallet could finally get some use.
"William and Kate were really keen to get George riding," a source told Hello! magazine. "It's something all the royals do and the whole family adore animals." The trend goes all the way back to his great-grandmother, Queen Elizabeth, who began riding lessons on a Shetland mare named Peggy when she was only 3 years old. At 92, she's still riding regularly, but none of her subsequent steeds has such a dope name (check with Horse & Hound if you don't believe me).
Princess Charlotte also takes riding lessons, Hello! reported, and she started when she was just 17 months old. Like his son, Prince William also had a later start than the girls; he didn't start riding his own Shetland, Smokey, until age 4, according to the Daily Mail. He's now an avid polo player, the Daily Mail reported, and he hopes that Prince George will one day follow in his footsteps.
So why didn't Prince George get his very own pony, like his father and great-grandmother did? It may be that they're just testing the waters with this loaner, or it could be that when it came to the subject of horses, the Duke and Duchess of Cambridge naturally turned to an expert for advice. Tindall, the second child and only daughter of Anne, Princess Royal, who herself is the second child and only daughter of Queen Elizabeth, isn't just 17th in line for the throne; she's also a champion rider. She won the Eventing World Championship at the World Equestrian Games in Aachen in 2006, and a silver medal at the 2012 Summer Olympics, which was presented to her by her mother.
That passion for horses didn't skip a generation, either. Anne herself competed at the Montreal Summer Olympics in 1976, and her father, Prince Philip once joked, "If it doesn't fart or eat hay, she isn't interested," according to Channel 4. In fact, if it wasn't for Anne's love of horseback riding, Zara might not even be here: it was at the Munich Olympics in 1972 that Anne first met Zara's father, Captain Mark Phillips, who took home the gold for the three-day event. The pair wed the following year, according to Channel 4. Surely the whole family is thrilled that little George has finally taken an interest in riding, but the public has cause to celebrate, as well, because Prince George plus pony equals maximum cuteness.