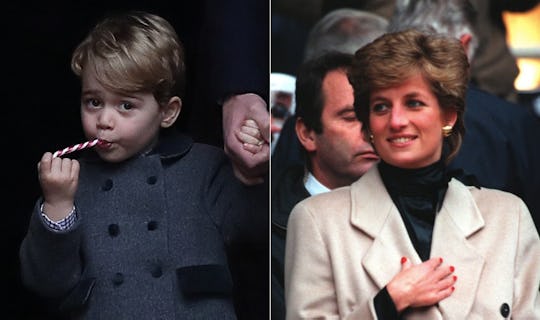 WPA Pool/Getty Images News/Getty Images/ Pascal Rondeau/Getty Images Sport/Getty Images
Sounds Like Prince George & Princess Diana Share A Very Relatable Christmas Habit
Prince George, 5, may be a future king, but despite all the royal pomp and circumstance, he definitely seems to have quite the cheeky side. The young royal has often been spotted making faces and having a giggle during public appearances, especially when he's with his cousin, Savannah Phillips, who certainly has quite the sassy streak of her own. But it sounds like Prince George can also be pretty mischievous in private, too: the youngster reportedly has a history of sneaking into his Christmas presents ahead of time, according to Marie Claire, and it turns out that Prince George may have inherited this Christmas habit from Princess Diana, who once admitted to doing the exact same thing.
The Duke and Duchess of Cambridge may have the benefit of nannies and household staff, but it can't quite be easy to be the parents of three children who are expected to grow up in the spotlight. Any parent knows that children can be unpredictable, and meltdowns can sometimes be inevitable. But when your kids' great-grandmother happens to be Queen Elizabeth II? You're probably going to feel a lot of extra pressure to keep them behaving as angelically as possible in front of crowds and cameras.
For the most part, Prince George and Princess Charlotte are impressively well-behaved, and it certainly doesn't hurt that they're also completely adorable (no youngster nails a perfectly-timed wave and curtsy like little Charlotte!). But just ahead of Christmas in 2016, Prince William admitted in an interview with London radio station KISS FM that Prince George was "already opening his presents," according to The Mirror, and it now seems that it might actually be a bit of a family tradition.
In a letter written to a friend in December 1985, Princess Diana wrote, "I rushed home to open your Christmas present, which I thought was quite good considering the 25th is actually two weeks away!!" according to Marie Claire, and admitted that she was never very good at waiting whenever "a parcel of any shape or form" would arrive with her name on it. And, it turns out that she wasn't very good at keeping presents from her then-3-year-old son, either. She wrote, "I fear that William has also picked up this dreadful habit from his mother, as I find wrapping paper undone in the most extraordinary places!"
I can't quite say I blame George for being impatient though — it's never easy for a kid to wait for their presents, and when you're literal royalty, it seems like those gifts would also be pretty amazing. Yet, being a prince at Christmas also means lots of formality and royal etiquette, so perhaps letting him have an early gift or two is pretty reasonable.
Unlike most kids, for example, whose Christmas morning usually involves running downstairs at the crack of dawn to start ripping open gifts while still in their PJs, Prince George, Princess Charlotte, and Prince Louis will instead be spending a very traditional royal Christmas Day at Sandringham in Norfolk, where they will be preparing to be photographed while walking to their annual church service with their royal relatives, according to People.
Afterwards, they'll return to Sandringham to have a Christmas turkey lunch, followed by a family viewing of the Queen's annual televised Christmas address. In fact, there won't actually be *any* gift-giving happening at all: royal tradition dictates that all gifts will instead be exchanged the night before, on Christmas Eve.
It's not known just what young Prince George might be able to expect from Santa this year, but according to Us Weekly, the prince is a big fan of bikes and cars and skateboards, and Prince William also revealed recently that his son has also become a big fan of video games. Either way, if Prince George has his way, he likely won't have to way too much longer to find out — though something tells me Prince William and Duchess Kate will probably be doing their best to up their gift-hiding game this year.