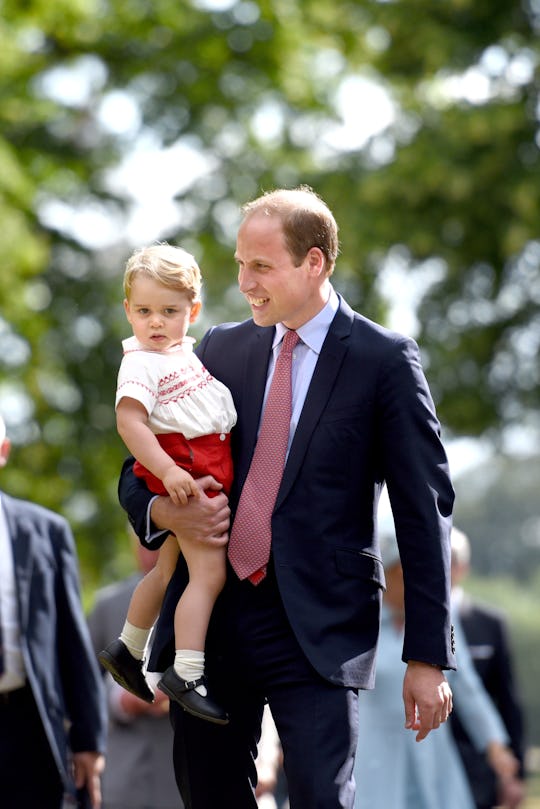 WPA Pool/Getty Images Entertainment/Getty Images
Prince George Meets President Obama & It's Exactly What Your Heart Needs — PHOTO
Prince George has been killing it in the cuteness department this past week. After upstaging all of his family members in the Queen's portrait for her 90th birthday, Prince George took his cuteness even further during his meeting with President Obama at Kensington Palace. Dressed in his bathrobe, Prince George meets President Obama — and the photograph is absolutely adorable.
The meeting was a bit of a surprise. On the Obama's way to dinner with George's parents, Prince William and Kate Middleton, when George met the Obamas in his bathrobe, blue gingham pajamas, and slippers. His get-up was absolutely adorable and the picture that came out from the meeting was even better.
In the photo, Obama is pictured squatting to George's height, interacting with the smallest Prince (nice form, Obama!). William is beside him, smiling very sweetly at his son, while Kate and Michelle are pictured in the background, looking at the little boy.
According to People Magazine, George, who turns 3 in July, was permitted to stay up late for the Obama's visit while his baby sister, Princess Charlotte, was fast asleep in bed — hence the reason why Prince George is in his pajamas. But honestly, there isn't a better outfit to meet the President and First Lady in.
George was also seen during his brief visit with the Obamas on his rocking horse at the palace, which was gifted to him by the Obamas after his birth. Photographers caught George on his rocking horse, while his mother looked on and clapped for him.
When George was born in July 2013, President Obama congratulated Kate and William on the birth of their son. "Michelle and I are pleased to congratulate the Duke and Duchess of Cambridge on the joyous occasion of the birth of their first child," Obama said in a statement at the time of George's birth. "We wish them all the happiness and blessings parenthood brings."
Users on Twitter have had the best reaction to the meeting of the little royal and the President, because Twitter users always seem to have the best reaction for every event.
The little boy does look pretty sharp in his pajamas — much nicer than any pair of pajamas I've ever owned and much nicer than the yoga pants t-shirt combination that I used to attend class in during my college days. George's pajamas are much nicer than those — and the perfect outfit to meet the President in.
This interaction between the two is one of the best things I've seen in a very long time and just proves that George is the cutest prince — sorry Harry and William!