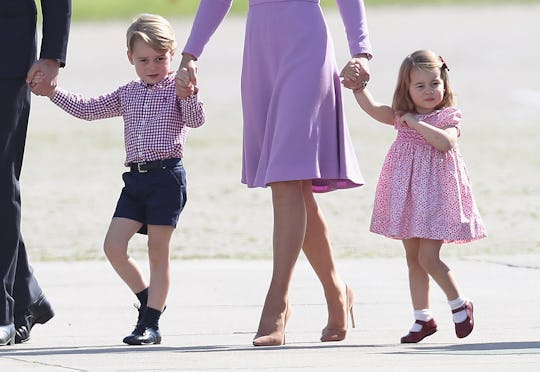 Chris Jackson/Getty Images Entertainment/Getty Images
Prince George & Princess Charlotte Are Obsessed With The Same Condiment As Your Kid
When it comes down to it, the United Kingdom's royal family is just like any other — except for the major fact that they're royalty. In the photos taken of them, the littlest royals, Prince George and Princess Charlotte seem like your average kids — they have meltdowns in public, they ham it up for the camera, and they show love for their siblings. And with every new fact that is revealed about the two, it makes them seem like every other non-royal kid out there. Like on Wednesday, it was revealed that Prince George and Princess Charlotte are obsessed with the same condiment as a lot of kids, proving how normal the smallest royals are.
The source on this matter is one to be trusted. During an appearance on MasterChef Australia on Wednesday, according to New Idea, Prince George and Princess Charlotte's grandmother, Camilla Parker Bowles, revealed that her grandchildren love one condiment that a lot of kids can't get enough of — ketchup. "My grandchildren are rather addicted to ketchup," Parker Bowles said on the show, according to New Idea.
Parker Bowles might only be a step-grandmother to Prince George and Princess Charlotte, since she married their paternal grandfather, Prince Charles, in 2005, according to Town & Country — but she is still their grandmother. And sure, Parker Bowles might be the grandmother to five other grandchildren of her own through her first marriage to Andrew Parker Bowles, according to Good Housekeeping. But because Parker Bowles didn't specify which grandchildren love ketchup, I think royal watchers can safely come to the conclusion that Prince George and Princess Charlotte love ketchup — which is pretty cool, considering so many other kids love ketchup, too.
To some, it might seem like 4-year-old Prince George and 3-year-old Princess Charlotte live a not-so-normal life, but their reported obsession with ketchup makes them seem like average, every day kids. Parents out there can relate.
While it's hard to pinpoint the exact reason why young children are obsessed with ketchup, according to Parents, it could do with the fact that ketchup makes bitter tasting vegetables, like asparagus and broccoli, taste better for them. And although it might frustrate some parents to see their children dipping a carrot in ketchup, parents should be assured that their kids are still eating healthy things underneath that ketchup, according to Parents.
Although ketchup might be Prince George and Princess Charlotte's favorite condiment, they reportedly call one type of cuisine their favorite — Italian. During a visit to the Cridge Center in Canada in 2016, Prince George and Princess Charlotte's mom, Kate Middleton, told one of the center's attendees that Prince George "loves" Italian food, like pizza and pasta, according to Hello!. And during an outing in London in March, Middleton reportedly revealed to volunteers that Prince George and Princess Charlotte love making pizza dough from scratch because the kids "love getting their hands messy," according to Business Insider. This further proves how normal Prince George and Princess Charlotte's taste in food is. Really, what kid doesn't get excited at the sight of a pizza and the opportunity to play with messy foods?
But their love of ketchup and Italian food isn't the only thing that makes Prince George and Princess Charlotte so normal. Prince William has said that Princess Charlotte "loves dancing," according to People, and is in love with their family pets — dog, Lupo, and hamster, Marvin. Prince George, on the other hand, reportedly gets "looked after" by his younger sister who calls the shots, according to ABC News, and is reportedly learning to speak Spanish (and he can already count to 10), according to The Telegraph.
Sure, Prince George is in line to become the King of the United Kingdom, according to Town & Country, and Princess Charlotte isn't close behind him. But although they might lead different lives compared to other young kids their age, rest assured their taste in food and condiments are just as similar as any other young child.