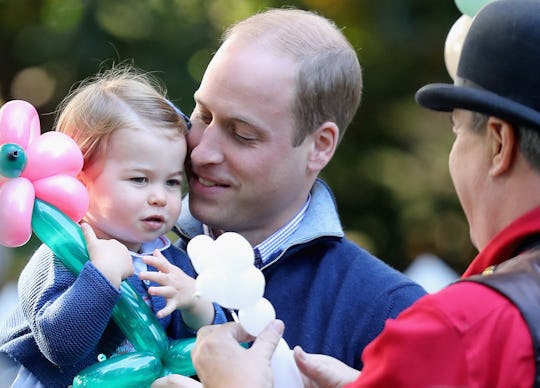 Chris Jackson/Getty Images Entertainment/Getty Images
Prince George & Princess Charlotte Playing With Bunnies & Balloons Will Make You Cry
Need something so cute that you might tear up a little? Let's set the scene: An outdoor mixer in Canada with the children of the country's military families. A petting zoo, balloons, and bubbles are all involved. Prince George donned dapper knee socks while Princess Charlotte opted for a true blue cardigan. Basically, the following photos and video of Prince George and Princess Charlotte playing with bunnies and balloons will make you cry. Promise.
Sixteen-month-old Charlotte and 3-year-old George had a ball at the party hosted at Government House in Victoria, B.C. Though upon landing George rejected Prime Minister Justin Trudeau's high five, this engagement really allowed him to loosen up. Charlotte was all-smiles throughout, giddy as she floated from one activity to the next. She was so inspired, even, that she exclaimed her first in-public words: "Pop" in reference to the beloved balloons, as well as an invitation for the Duke of Cambridge to join her, calling out to him: "Dada!"
After celebrating the balloons, the pair scurried over meet Moose, a very soft-looking, snowy-white dog. Charlotte hopped on the dog's back and Moose didn't even protest. Next, hired children's entertainer Paul Kilshaw made special balloon creations, ranging from your run-of-the-mill flower and tree to the more elaborate teddy bear and spider, even whipping up a volcano for George. Kilshaw told The Telegraph that George was eager to inform him that the orange "flames" in his balloons were the volcano's lava.
Next, George showered his parents with bubbles, giggling alongside them. Finally, Charlotte made her way to the petting zoo where she was able to hug even more animals, namely a pony named Honey, a black-and-white bunny, and a goat named Bethany.
See all the adorableness for yourself:
OK, now what's cuter than that? It's nice to know that all kids, even royal ones, can appreciate the simple pleasures of life, like balloons, bubbles, and bunnies. This romp was a part of Princess Charlotte's first overseas visit and Prince George's second. The royal family is set to be in Canada for a total of eight days, with this playdate falling on day six of their travels. The Duke and Duchess have visited myriad sites on their trip, ranging from an event at Sheway, the Immigration Services Society of British Columbia; the Great Bear Rainforest in British Columbia; and the Okanagan campus of the University of British Columbia.
Seeing as the Prince and Princess of Cambridge had such a blast at their gathering, this setup could work for any kids' party. Petting zoo aside, providing toddling guests with balloons and bubbles is plenty. Just ask Princess Charlotte—she'll give you rave reviews.