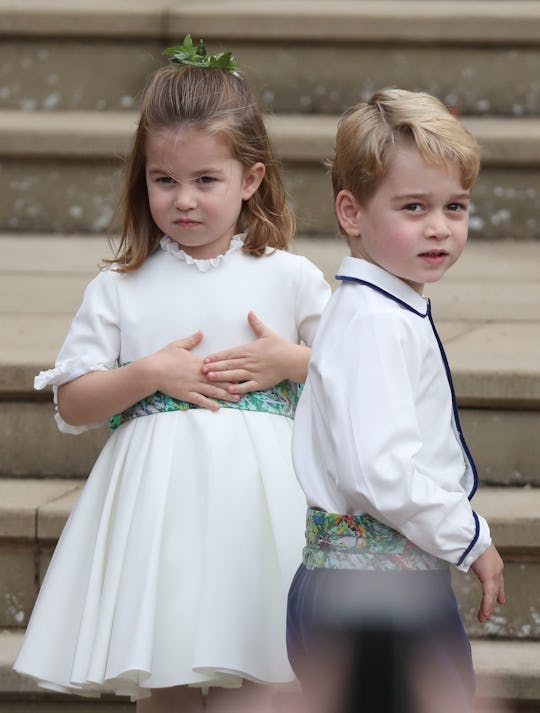 WPA Pool/Getty Images Entertainment/Getty Images
As Expected, Prince George & Savannah Philips Were SO Cheeky At Princess Eugenie's Wedding
All eyes may have been on Princess Eugenie when she tied the knot with Jack Brooksbank at Windsor Castle on Friday, but as usual, it was really the youngest royals who were the stars of the show. And even though Princess Charlotte was reliably adorable, offering up her signature, perfectly-timed wave on the steps of St. George's Chapel, viewers couldn't help but notice that her brother, Prince George, and cousin, Savannah Phillips, have once again proven that they're the cutest BFFs. In fact, Prince George and Savannah Phillips joking around at Princess Eugenie's wedding was an unexpected highlight of the televised ceremony, and seemed to confirm the two have the cheekiest friendship.
At only 5 years old, Prince George has the unique role of being third in line to the British throne, and that no doubt will require him to be poised, mature, and responsible in a way that his siblings may not have to be (his father, Prince William, Duke of Cambridge, likely knows a great deal about that). But Prince George also definitely seems to have a pretty great sense of humor: the young prince appeared to be having a fun time at the ceremony, thanks to his older cousin, Savannah.
Though Prince George's affinity for Savannah is adorable, it's also really amusing, particularly because she definitely seems to have a bit of a rebellious streak. The 7-year-old daughter of Peter and Autumn Phillips also happens to he Queen's oldest great-grandchild, even though she doesn't actually have a royal title.
That may also mean she hasn't been expected to learn the usual rules of royal etiquette though: earlier this summer, Savannah unexpectedly stole the show on the royal balcony at Trooping The Colour, where she was snapped playfully conducting the orchestra, according to Town & Country — and at one point, she even put her hand over Prince George's mouth as he sang the national anthem:
The two were together again on Friday as members of Princess Eugenie's bridal party, and once again, it looked like Prince George was totally here for Savannah's sassiness. As they stood with the other children ahead of the ceremony, Savannah appeared to be entertaining George by pretending to play the horn — something that made him laugh and then cover his mouth as if he knew that busting a gut during a royal wedding is a definite no-no when you're the heir:
Unsurprisingly viewers were totally here for it, and on Twitter, royal fans were psyched by the duo's reunion:
Given that Prince George definitely seems more like the type of kid to abide by the rules, it's pretty hilarious to see his relationship with free-spirited Savannah — and it's also super sweet. And even though the royal grown-ups probably don't appreciate her messing around in public and making Prince George laugh at these fancy occasions, it certainly makes for some memorable moments at events that are otherwise all about tradition, custom, and being prim and proper.