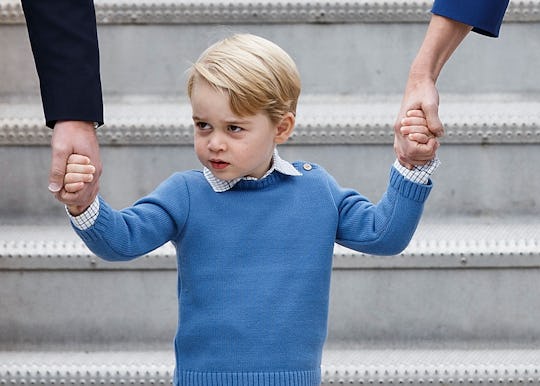 Andrew Chin/Getty Images Entertainment/Getty Images
Prince George Snubs Canadian Prime Minister Justin Trudeau & His Lowly High Five
He may be an adorable 3-year-old, but make no mistake, Prince George is also the future king of England, and he doesn't have time for your commoner nonsense. If he wasn't already sending a clear message to world leaders about their respective places in the social pecking order when he met President Barack Obama while wearing his pajamas, then he was definitely proving a point when he met another world leader this weekend. Prince George snubbed Canadian Prime Minister Justin Trudeau Saturday on a royal visit to British Columbia, Canada, and it was amazing.
According to The Guardian, after arriving in the Canadian province for an eight-day royal visit with his parents, the Duke and Duchess of Cambridge, and his little sis, Princess Charlotte, Prince George was welcomed by the Canadian PM, who crouched down and offered the young monarch a low five, then a high five, and finally, a formal handshake. But Prince George was having none of it, and totally left the swoon-y prime minister hanging. Trudeau may be a good-looking, feminist, loving-husband-and-father-of-three who spent his first day after the election taking selfies with his constituents in a Montreal subway station like the rock star that he is (and yes, I may be a fan), but clearly it will take much more than that to impress the heir to the British throne. Trudeau might run the country, but Prince George would obviously like to remind him that, as the official head of state, his great-grandmother Queen Elizabeth II is kind of his boss, OK?
Of course, it's entirely likely that Prince George could also just be a 3-year-old who isn't super fond of meeting new adults while crowds of people watch his every move and take his photo, but the first theory is way more fun. And honestly, watching Trudeau — who is basically a walking political dreamboat — get completely shut down by the world's most important preschooler (likely the only human on Earth impervious to his charms), is so awkward it's actually painful to watch. (Don't worry, Trudeau, the rest of the world still loves you.)
The Canadian visit is actually the second time the Duke and Duchess have gone on a royal tour of the country (their first was in 2011, not long after their wedding), though it is the first time that their children have visited. It's also the first time the ridiculously attractive royals met the equally-as-attractive Canadian first couple, Trudeau and his wife, Sophie Grégoire-Trudeau. Upon welcoming the royals, Trudeau thanked the Duke and Duchess for bringing their little ones to Canada with them, saying, according to TIME,
I want to commend you and thank you for introducing our part of the world to Prince George and Princess Charlotte. Although let me caution you from my own experience, if they are anything like our kids, getting them back on the plane after a visit to our beautiful west coast will really be a challenge.
(#DadProblems, right Trudeau?)
Prince William responded in kind when he addressed the crowd, and said,
Catherine and I are delighted to be back in Canada. When we were here last time, we had been married only three months. The warm welcome that you gave us at that important moment in our lives meant a lot to us — and we have never forgotten it. That is why we are so pleased that George and Charlotte can be with us in Canada this time round, beginning their own lifetime of friendship with this wonderful country.
That lifetime of friendship may have gotten off to a bit of a rocky start as far as Prince George is concerned, but Trudeau, for one, didn't seem to mind. The PM posted a tweet Sunday thanking the royal couple for their visit, which I'd like to think also implied a "no hard feelings, George."
Given Prince George's disdain for Trudeau, I can't help but wonder, does one ever high five the heir to the British throne? Is it a scandalous breach of royal protocol, akin to First Lady Michelle Obama putting her arm around the Queen? Or perhaps Prince George just doesn't like the look of Trudeau's perfect hair or sparkly teeth? I guess we'll never know.