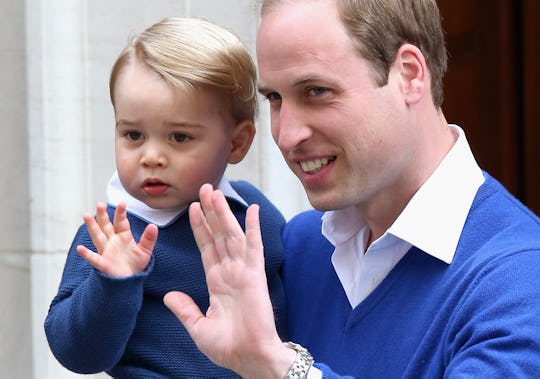 Prince George Starts Nursery School & He's Obviously Going To Be Quite The Scholar — PHOTOS
One of the littlest royals is off to school. Kensington Palace shared photos of Prince George starting nursery school, and they are off-the-charts adorable. The pictures of Prince George clad in a navy coat and baby blue backpack were snapped by his mom and Duchess Kate Middleton.
TODAY reported that Prince George is a student at Westacre Montessori Nursery. Since the facility is in Norfolk, he's attending school "about 100 miles north of London" and Buckingham Palace. According to the Montessori Society AMI UK, how a Montessori education is different from traditional nursery school and preschool options centers on its view of kids. Montessori education pays particularly close attention to a child's age, adapting lessons and activities to embrace the stage that they're in and create a distinctive supportive environment at each time of their life.
Montessori schools emphasize the importance of embracing a child's "first six years," because they believe those years are the time when learning is perhaps easiest and requires the least regimentation; it's referred to as "the Absorbent Mind." Teachers in a Montessori program focus on guiding children by encouraging them to pursue the activities and interests that are both appropriate for their life stage and that they're naturally compelled to explore.
Prince George looked a little bit apprehensive as he arrived at nursery school:
He definitely seemed to be curious about his new surroundings:
This isn't the first time Duchess Kate shared her talent as a photographer. TODAY reported that she also took the photos of Prince George with Princess Charlotte that were released in June 2015. Prince George's baby sister was born in May.
According to TODAY, Prince William and Duchess Kate want to help Prince George have as normal a nursery school experience as possible. A Kensington Palace statement read, "They also ask for the privacy of the nursery's staff, other children, parents, and carers to be respected as well." It's hard to imagine what it'd be like to show up for the first day of nursery school and find out a potential future king is in your child's class!
Though there may be extra security in place, he won't be getting any special treatment in the classroom. Westacre Montessori Nursery released a statement, saying, "We are looking forward to welcoming George to our nursery where he will get the same special experience as all of our children." Prince George will also be near his home. The Guardian reported that Westacre Montessori Nursery is located close to Anmer Hall, the family's country home. When they're staying at Kensington Palace, Prince George will likely go with them.
Starting school is a major step in any kid's life, and there's certainly extra pressure on a royal. Ideally, Prince George will get the full nursery school experience and have all the fun of being a normal 2-year-old.
Image: Chris Jackson/Getty Images Entertainment (2)