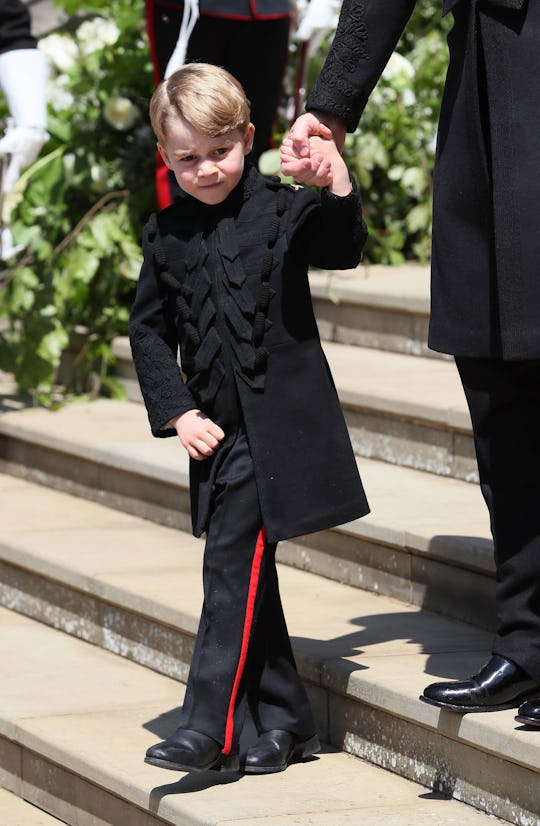 WPA Pool/Getty Images Entertainment/Getty Images
Here's Why Prince George Wore Pants For The First Time In Public At The Royal Wedding
There was a lot to look at during Prince Harry and Meghan Markle's wedding on Saturday. But at the end of the day, some would argue that the smallest guests in attendance stole the show — including Prince Harry's nephew, Prince George. While all of Prince Harry and Markle's wedding party looked so cute, Prince George stood out in particular — especially since Prince George wore pants for the first time, in public at the royal wedding, which is kind of a big deal, according to People.
Even though Markle stunned in her Givenchy gown designed by Clare Waight Keller, her bridesmaids looked just as cute in their respective white dresses and flower crowns. Meanwhile, the page boys in the wedding donned miniature versions of Prince Harry's own Blues and Royals frockcoat, the uniform belonging to the old military Regiment of Prince Harry and his brother, Prince William, according to Kensington Palace. This "uniform" called for all of the page boys to wear pants, according to People, including Prince George who has never worn pants during a public appearance.
This isn't because Prince George prefers one over the other or likes the way the cool English breeze feels against his knees. It is because it is tradition for young royal boys to wear shorts, according to Harper's Bazaar, since pants are considered to be both "suburban" and for "older boys."
Wearing shorts is a silent "class marker" for young boys in the United Kingdom, according to the Daily Mail, and is a tradition that dates back to the 16th Century where it was a "means of potty training" for little boys. Because the royal family is so deeply rooted in tradition, it only makes sense for the person that is third in line to inherit the royal throne to abide by this tradition, as well. Prince George always looks so cute in his shorts that it might not even have registered with some people that they had never seen his knees covered until Saturday. But just because Prince George and pants made their big debut together over the weekend doesn't mean he will start wearing pants for good.
Young royals tend to wear shorts until they're 8 years old, according to People, which means the 4-year-old prince has to enjoy four more years of wearing shorts until it is acceptable for him to wear pants in public. But it is not like he (or anyone else) seems to mind. Some people have already gone as far as to call Prince George a fashion icon for his sartorial choices that incorporate shorts into every single outfit he wears.
Although the royal wedding might have been the first time that Prince George has appeared at a public event wearing pants, it's not like his wardrobe at home solely consists of shorts. In 2016, Prince George met President Obama wearing pajama pants — and the super adorable moment was luckily caught on camera.
And if people were concerned about the state of Prince George's knees in the winter time, they shouldn't be. During a family ski trip to the French Alps in 2016, according to Travel + Leisure, royal photographers captured Prince George wearing a snow suit that kept his legs protected from the cold environment around him.
It is important to remember that people only see Prince George in shorts when he makes appearances with his parents while they're traveling, according to the Express, or in special instances like when he went to meet his mom and his newborn brother, Prince Louis, at the hospital last month. But as he gets older, Prince George will make more and more royal appearances, according to Newsweek, where he will continue to wear shorts until he becomes of age.