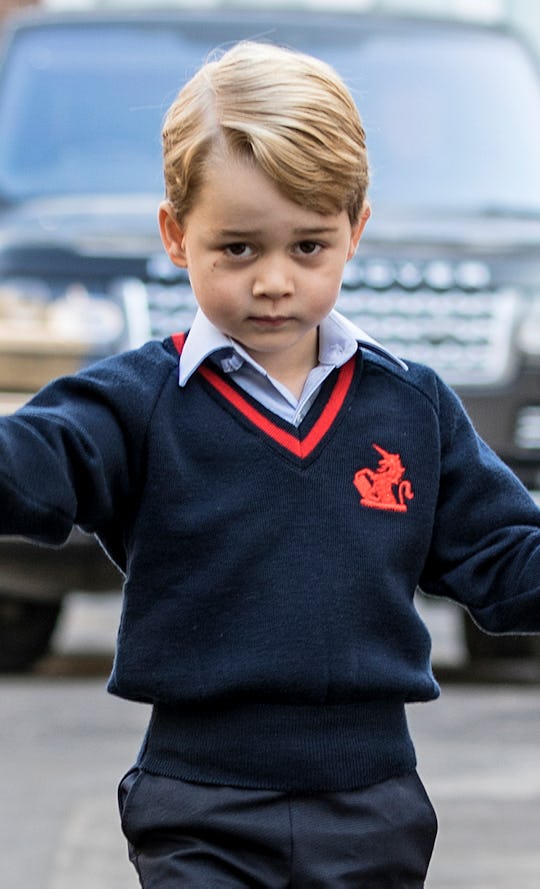 WPA Pool/Getty Images Entertainment/Getty Images
Prince George's 5th Birthday Portrait Is Bursting With Personality
Between the April birth of Prince Louis and the May royal wedding of Prince Harry and Meghan Markle, the royal family has celebrated a number of important milestones during the past few months. And in case you weren't aware, Prince George's birthday is just around the corner. Because on Sunday, July 22, the little prince will be turning 5 years old. Ahead of his big day, Kensington Palace has kept with its tradition of releasing a new official portrait of the young royal. And this time around, Prince George's fifth birthday portrait is bursting with personality. But how does it compare with year's past?
On Saturday, Kensington Palace shared the newest portrait of Prince William and Kate Middleton's eldest child via Instagram and Twitter, People reported. "The Duke and Duchess of Cambridge are very pleased to share a new photograph of Prince George to mark His Royal Highness's fifth birthday tomorrow," Kensington Palace said in a statement Saturday. This newest glimpse at Prince George — who is third in line to the royal throne, for the record — is too adorable for words. But (I'll try anyway.) Standing in front of a brick wall, the young prince is looking rather grown up while sporting a cheesy grin, a blue button-up shirt, and what are probably a pair navy blue shorts with long socks. You know, his signature look.
A fair number of Twitter responses pointed out how much Prince George is looking like his father's side of the family. "I completely see Her Majesty Our Queen Elizabeth in that young and vivacious face. God Bless you," one Twitter user wrote.
"He looks like his grandmother!" another person commented.
Yet another Twitter user commented, "Happy Birthday, Prince George! You look more and more like your Daddy every day."
Just for fun, let's take a look back at his other official birthday portraits through the years, shall we? Because he's changed so much in the past four years. It's insane.
His First Birthday
In honor of the little tyke turning 1, Prince George's family shared a handful of photos taken by Press Association staff photographer John Stillwell. The royal family had visited the "Sensational Butterflies" exhibition at the Natural History Museum earlier in the month, and that's where the above photo was taken. (Just look at that little cutie with his chubby cheeks and his overalls!) "He was very lively, very confident and very sure of himself," Stillwell told Us Weekly at the time.. "He's a very determined young boy. And who does he look like? I'd have to say his dad, William."
His Second Birthday
As The Telegraph reported, Prince George's portrait for his second birthday was shot by photographer Mario Testino at Princess Charlotte's christening. In the adorable photo the little prince can be seen leaning toward the camera while his father, Prince William, holds him. Too sweet, right?
His Third Birthday
To mark his third birthday, Prince George had photos taken while at his family's country home, Anmer Hall, according to Vanity Fair. Photographer Matt Porteous was behind the camera this time, as the young royal walked through the woods and fed his dog ice cream. (Wait, where did all that baby chub go?)
His Fourth Birthday
Prince George's fourth birthday portrait was taken at the royal family's home, Kensington Palace, by Chris Jackson, Getty Images royal photographer, People reported. His smile in this one was absolutely infectious — and he's also starting to look more like a little man, too. Which again, brings us to this year's portrait — for which he's looking even more grown up and joyful than ever.
I don't know about you, but even after going through all of Prince George's birthday portraits, I'm still sitting here thinking, "How in the heck can he be 5 years old already?!" It seems like just yesterday that William and Kate were introducing their first child on the steps of St Mary's Hospital. They grow so fast. *Sniffle* (Don't even remind me that my oldest will soon be turning 7.) I truly hope the royal family continues to keep up with this tradition through the years. Because even though I will never actually know the royal children in person, watching them grow up from afar is oddly satisfying. (Probably because they're all so stinkin' adorable.) Thanks Will and Kate, for sharing your sweet kiddos with the world!