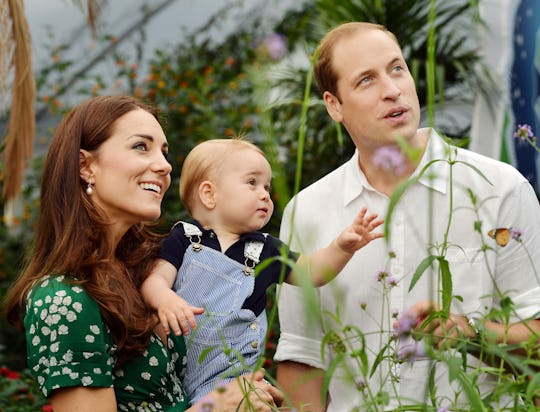 WPA Pool/Getty Images Entertainment/Getty Images
Prince George's Birthday Parties Over The Years Show The Royals Know How To Celebrate
So much has been happening in the royal family since springtime, it can be difficult to keep up with it all. There was the birth of Prince William and Kate Middleton's third child, Prince Louis, in April — shortly followed by the royal wedding of Prince Harry and Meghan Markle in May. Since then, the royal family (and children!) have made a number of high-profile public appearances, including the Trooping the Colour, Prince Louis' christening, and more. Next on the royal agenda is Prince George's fifth birthday, which is only a few days away at this point. In honor of the young royal's impending milestone, let's take a look at Prince George's birthday parties over the years. Because he's grown so much!
Prince George Alexander Louis was born on July 22, 2013 — the first child of Prince William and Kate Middleton. He also happens to be third in line to the royal throne, behind his grandfather Prince Charles, and his father Prince William. Naturally, the young prince has remained in the spotlight since his highly-anticipated birth. Although his parents have done everything in their power to keep their children's lives as private as possible while they're still young, they have made it a tradition to release official portraits of the royal children each year as they celebrate their birthdays. Details of their birthday parties — although not necessarily photos — are also reported, too. So let's reminisce a bit, shall we? First, there was ...
His Peter Rabbit-Themed First Birthday Party
As USA Today reported, Prince Willam and Kate Middleton marked Prince George's first birthday with a photo shoot at the Sensational Butterflies exhibition at the Natural History Museum in London. For his actual birthday party, according to E! News, was a Peter-rabbit themed affair held at Kensington Palace. Members of Prince George's immediate and extended family showed up for the intimate affair, according to E! News, and while Prince Charles couldn't make it due to work obligations, he did get a stuffed squirrel for his grandson.
His Low-Key Second Birthday Bash
Prince George's second birthday was celebrated at Anmer Hall in Norfolk, to which roughly a dozen kids were invited for a low-key party, Hello! Magazine reported. Although Prince Philip was able to make it to celebrate in person, Prince Charles and the Duchess of Corwall were unable to attend, according to the publication. Prince Harry missed the occasion, too, as he was working on conservation projects in Africa at the time. The private party went on for about an hour and 15 minutes, according to Hello! Magazine.
His Third Birthday
For his third birthday, Prince George again celebrated with a special tea party at his family's country home, Anmer Hall, People reported. Just days before, the young Prince also got a special treat when he joined his parents at an air show to meet members of the British elite forces, the Special Air Service. And you guessed it, official portraits of the birthday boy were once again released by Kensington Palace.
His Fourth Birthday
In honor of Prince George turning 4, Kensington Palace once again released an official portrait of the birthday boy, USA Today reported. "The Duke and Duchess are very pleased to share this lovely picture as they celebrate Prince George's fourth birthday, and would like to thank everyone for all of the kind messages they have received," Prince William's office said in a statement. Prince George reportedly had a dinosaur-themed birthday party this time around, according to New Idea. Which brings us to ...
This Year, His Fifth Birthday
With Prince George turning 5 in just a few days, it's unclear how the young prince will celebrate this time around. We can probably count on the release of yet another official portrait — which I'm sure will be adorable as heck. But other than that, the details aren't yet clear. However, Prince George has already received a royal present, as Elle reported. That's because The Royal Mint revealed a commemorative coin issued in celebration of the young prince's July 22 birthday. This special coin features the legend of St. George and the Drago on one side of it, along with a portrait of Queen Elizabeth II on the other side. "The birth of Prince George altered the course of history in the United Kingdom, and we are pleased to be marking the fifth birthday of our future king," said Nicola Howell, director of consumer business at The Royal Mint, according to the publication.
As Hello! Magazine reported, the royal family could be spending Prince George's birthday on a remote island. That's because the family was reportedly spotted arriving at St. Lucia airport, where they boarded a private plane to the small island of Mustique. Although the trip would mark the family of five's first holiday together, the plan could be to remain at the island through George's big day, which would definitely switch things up a bit.
However the young royal celebrates turning 5, I think it's safe to say fans of the royal family are again looking forward to his adorable annual portrait.