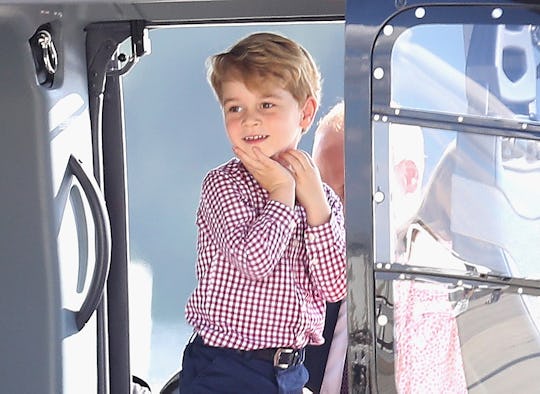 Chris Jackson/Getty Images Entertainment/Getty Images
Prince George's Birthday Portraits Through The Years Are So Flipping Cute
The British Royal Family has had a lot going on lately; there's a new duchess, a new princess, and some lesser-known royal-adjacent cousin had a baby, too. Also, the second in line for the throne is turning 36 this week, but who cares about Daddy when Prince George's birthday portraits are right around the corner? The future king and big brother of two is turning 5 years old on July 22, and if history serves as a guide, the new pics of the little helicopter enthusiast will make the entire world sit up and squee.
With all the big changes going on about the palace, you'd forgive the Duke and Duchess of Cambridge if they let things slide a little this year, and gave George a more low-key celebration. Wait, no, you wouldn't. A regular family, sure, but with all the loot and servants those two have access to? Don't worry; they didn't disappoint. "Kate is organizing a lavish $100,000 birthday party for George in the gardens of Kensington Palace," a "royal insider" revealed to Life & Style. "Kate doesn't always spoil her kids like this, but she wants George's 5th to be a day to remember!" Odd that a "royal insider" would describe the price tag in U.S. dollars, but OK!
The rumored accoutrements range from the types of things you'd see at any old commoners party — a bouncy house, a Lego area, and a custom-made birthday cake — to the type of excess befitting a boy of George's stature, like "hundreds of balloons," at least 15 entertainers, and miniature Ferraris for the prince and his mates to tear up the palace grounds with. I would like to offer my services as a pro bono cater waiter just to get a look at that. Where can I send my resume?
Sadly, the public probably won't get a glimpse at any of the festivities, but we can count on Kensington Palace to release a new photo of George to mark the occasion. Take a look at the previous ones to get an idea of what to expect.
First Birthday
When George turned one year old, the royal family chose to share a set of photos taken by Press Association staff photographer John Stillwell, according to Us Weekly. They were shot while the family was visiting the "Sensational Butterflies" at the Natural History Museum earlier that month. Look at those chubby cheeks. Look at those chubby legs! He's killing me.
Second Birthday
George's second birthday photo was courtesy of photographer Mario Testino, the Telegraph reported, who captured this adorable father-son grinning contest at Princess Charlotte's christening. Enjoy it while it lasts, Will, because now that he's turning five, those natural smiles might be replaced by the weird, forced grin of a kid who's old enough to understand that they're meant to smile for pictures, but not clever enough to have practiced for hours in the mirror.
Third Birthday
George's third set of birthday portraits were taken on the grounds of Anmer Hall, the family's country home, according to Vanity Fair. This time around, photographer Matt Porteous snapped some candids of the little prince tromping through the woods and feeding his dog ice cream, just like all little boys do. Just, you know, at a fancy estate that he stays at when he's not at home in his castle. NBD.
Fourth Birthday
Last year, People reported that the Duke and Duchess employed the services of Getty Images Royal Photographer Chris Jackson for a more formal birthday portrait of George. The composition says "I'm royalty," but the smile says "someone just offered me a giant bag of candy." I aspire to be as happy as this kid looks, if only for a moment. The next portraits can't come soon enough!