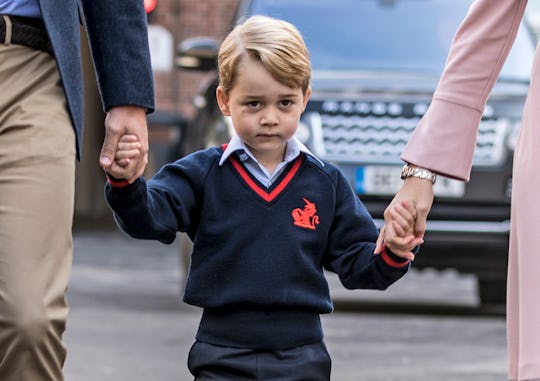 WPA Pool/Getty Images Entertainment/Getty Images
Prince George's Christmas Gifts Over The Years Are Surprisingly Normal
Christmas is a very special time of the year for everyone, especially for the youngest members of the United Kingdom's Royal Family. It's a time for giving, receiving, and spending time with friends and family. So, it shouldn't come as a surprise that Prince William and Kate Middleton's kids definitely enjoy the holiday surrounded by their very famous family members. But looking at Prince George's Christmas gifts over the years shows that while he might be third in line to inherit the royal throne, his parents treat him like any other kid on Christmas.
This Christmas should be super exciting for Middleton and Prince William's family — it's the first one that they'll be celebrating with their newest child, 8-month-old Prince Louis. Within a matter of weeks 5-year-old Prince George, 3-year-old Princess Charlotte, and Prince Louis, will open their Christmas presents and be surrounded by their family members. But Christmas is celebrated just a bit differently in the royal family, according to Hello!.
Instead of opening presents on Christmas day, Prince George and his siblings open their presents on Christmas Eve, according to Hello!. But this doesn't make Christmas any less exciting for the kids. Middleton has revealed that Princess Charlotte and Prince George are looking forward to the holiday this year and have even started singing Christmas songs, according to Hello!.
Although it is a little unclear what is on their wish lists this Christmas, looking at what Prince George has received throughout the years can indicate what Santa might bring in 2018.
2017
Last holiday season, Prince William took an official tour to Finland, where he met Father Christmas himself (I know, it's a huge deal). During his meeting with "Father Christmas," Prince William handed him Prince George's Christmas list, which was pretty bare, according to Town & Country.
The list revealed that Prince George wanted a police car and thought he had belonged on the "nice" list last year. So cute. Prince William said during this appearance that Prince George wasn't asking for too much this year. "He hasn't written down many requests so I think one is probably OK," Prince William said, according to Us Weekly.
It makes sense that Prince George's list would be pretty scant, since this was the same year that an unnamed source told Us Weekly that Prince William and Middleton were hesitant about showering their kids with gifts and making them spoiled. "It's their worst nightmare," the source told Us Weekly.
2016
In 2016, Kate Middleton did a little bit of shopping herself for her kids' Christmas presents. This was the year that Kate Middleton reportedly bought her kids special "Santa sacks" where she hid all of their gifts, according to People.
But this didn't stop Prince George from peeking at his presents a bit earlier than usual. During an official royal appearance before Christmas, Prince William was heard telling one well wisher that Prince George had already started to unwrap and take a peek at his presents. Oops.
2015
It's just a little unclear what presents Prince George and Princess Charlotte received during Christmas of 2015. But that is perfectly OK since Prince George and his younger sister received almost 100 presents throughout the year because of their parents making official appearances and going on tour, according to Hello!. Prince George was given DVDs, stuffed animals, and even a pair of pajamas throughout the year, among other gifts.
Who needs Christmas presents when you can have presents all year round?
2014
In 2014, Prince George reportedly received seven times more gifts throughout the year than his great grandmother, the Queen of the United Kingdom, according to CNBC.
Yes, he received more than 700 presents throughout 2014, according to People, including a rocking horse, a surfboard, and some soccer balls. Although the 1-year-old boy was a little too young to really enjoy these presents at the time, it's the thought that counts, right?
It's also unclear what presents Prince George got this year, but one would assume that they would be a little more age appropriate than a surf board and skate board.
2013
For Prince George's first Christmas ever, Middleton reportedly handpicked some special gifts for her son, according to Hello!. Middleton reportedly purchased a cozy, patriotic sweater for her son from one of his favorite stores. But Prince George wasn't really interested in presents this year. Middleton reportedly told one well wisher after church on Christmas morning that Prince George was "more interested in the wrapping paper than the presents" that year, according to E! News. This makes sense, considering that Prince George was only five months old at the time.
No matter what Prince George receives for Christmas throughout the upcoming years, it's clear that he isn't spoiled at all. His parents keep him humble and he obviously knows that it is better to give than to receive.
This first-time mom wants to have a home birth, but is she ready? Watch how a doula supports a military mom who's determined to have a home birth in Episode One of Romper's Doula Diaries, Season Two, below. Visit Bustle Digital Group's YouTube page for the next three episodes, launching Mondays in December.