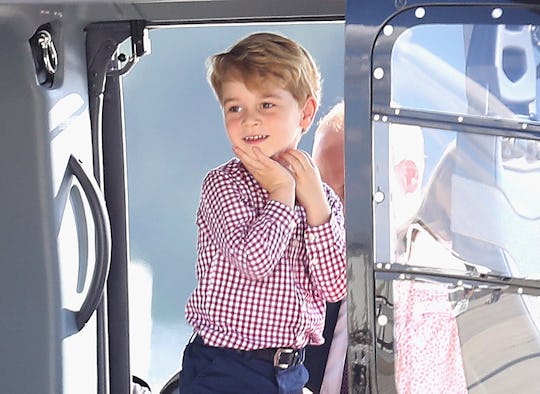 Chris Jackson/Getty Images Entertainment/Getty Images
Prince George's Christmas Wish List Is Out, & It's Seriously The Cutest Thing Ever
If you're on the verge of a breakdown under the leadership of a president known for shoving prime ministers and threatening unstable dictators over Twitter, have I got an international diplomacy palate cleanser for you. Prince William, Duke of Cambridge ran into Santa Claus while (whilst?) on a visit to Finland on Thursday, and he just so happened to have his son, Prince George's Christmas wish list on hand. He stopped the big guy to let him have a look, and lucky for the rest of the world, the press got one, too. Surprise, surprise, it is adorable.
"My son's been extremely keen to see you!" the future king greeted Father Christmas, before approaching him and pulling out a note, according to Hello!. "I've seen you, and I have to give you this letter," he explained, noting that his heir "hasn't written down many requests, so I think one request is probably OK." William also assured the jolly old elf that George has "been a nice boy" this year, so he totally deserves whatever his little heart desires. At 4 years old, he already stands to inherit an actual kingdom, so the question is, what does he want? There's just one item on his list, and it turns out that royals really are just like us.
George would like a police car for Christmas, just like most kids his age around the world. They go fast, they're noisy, they light up, and there are real-life superheroes inside; what's not to love? This is very on-brand for the Prince, who was already tooling around in a toy fire engine and a miniature John Deere tractor at the age of 2. And of course, we all remember the lad absolutely plotzing over the chance to hop inside a real live army helicopter over the summer. The boy loves his specialty vehicles.
Even if Jolly Old Saint Nick can't manage to squeeze a squad car down the chimney of Kensington Palace, I'm sure his grandmother, ruler of all the land, could call in a favor and get one delivered. I honestly don't anticipate that U.K. taxpayers would even have a problem with it, because that kid is freaking adorable and he totally deserves it. But just in case that's not an option, William can pick up a Little Tikes version for about £50, or spring for a $400 motorized one if he doesn't mind buying American.
Of course, that's where royals aren't "just like us." While George's parents are in a position to grant his every wish, the average parent doesn't have the police force at their beck and call, and even the plastic ride-on versions might be out of reach. In those circumstances, parents might consider purchasing a Matchbox or Hot Wheels version for a buck or two, creating a police car "fort" out of cardboard boxes and markers, or even contacting the local station to arrange for a meet-and-greet with officers and their vehicles. Some cities and towns even hold events where children can get to know their "community helpers" like cops, firefighters, and paramedics.
If your child is dead set on owning a real police car, though, there's no need to bring finances into it, or to blame Santa for being a cheapskate. Simply explain to them that police cars are only available to police officers, because they're specialized law enforcement equipment, but they can still have fun drawing police cars, playing with toy ones, or just using their imagination. That is, unless you're Prince William. In that case, you buy that little boy a police car and hire a real cop to drive him around in it, because you can.
Check out Romper's new video series, Romper's Doula Diaries:
Watch full episodes of Romper's Doula Diaries on Facebook Watch.