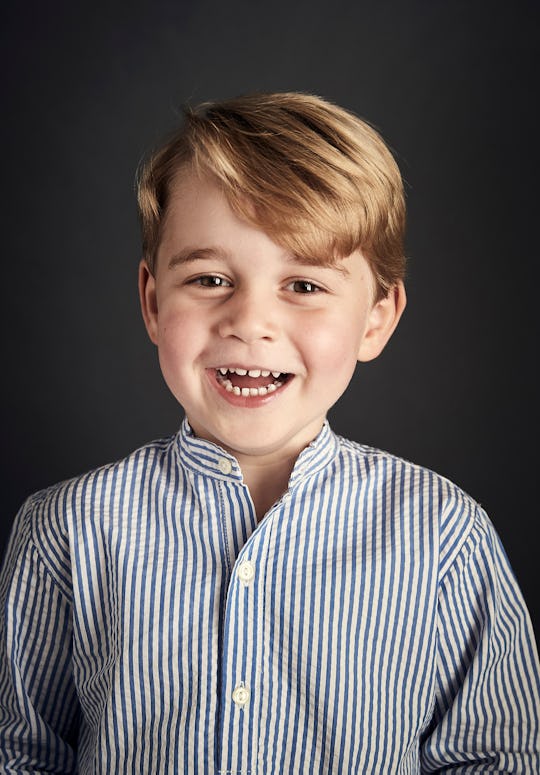 Handout/Getty Images Entertainment/Getty Images
Prince George's Favorite Movies Are Probably What Your Kids Are Loving Right Now, Too
Why is everyone so obsessed with the royal family? I find myself asking this question again and again when I see headlines about what Kate Middleton wore to a recent event, or when photos of Prince George and Princess Charlotte doing normal little-kid things are plastered across the internet. And then I remember that here in the United States, we have our own version of "royals" — celebrities. (I'm looking at you, Kardashians.) Whether someone is born into a prominent family, or they catch our attention with their remarkable talents, celebrities are just so darn fascinating. Maybe that's why it's exciting when we discover we have something in common with a famous person; it makes them seem so normal. In fact, Prince George's favorite movies are probably what your own kids are obsessed with right now, too.
At a meet-and-greet on Monday following the British Academy of Film and Television Arts (BAFTA) ceremony, Kate Middleton was overheard speaking about Prince George's current favorite movies, as reported by the Daily Mail. The Duchess of Cambridge was conversing with Lee Unkrich — the director of Disney's Coco — at the time, when she revealed her 4-year-old son's top picks. "I'm desperate to see it. Lots of girlfriends have been to see it with their kiddies and been really impressed with it," Middleton said, according to the publication. "They [kids] are just getting into films now, George is four-and-a-half. Paddington is definitely up there, and so is Coco now."
And, just like our own kids, Prince George's movie tastes seem to change with the wind. As HuffPost reported in October, the oldest child of Prince William and Kate Middleton was also a huge fan of a certain 1994 Disney classic. At a charity event at London's Paddington station, Prince William spoke with a young boy who asked what Prince George likes to watch. "He quite likes The Lion King. We've watched that a few times," he said. "He's watched Octonauts several times. He has watched some Lego movies as well, so he's watched a lot of things like that."
In April 2017, the Duke of Cambridge had told BBC Radio 1 about Prince George's fondness for a certain U.K. animated series. "Fireman Sam has taken an awful lot of interest," Prince Williams said at the time, according to People, also noting that Peppa Pig had been a favorite. So you can probably imagine just how excited Prince George was when he found out he would be making a cameo in his favorite show.
"We're going to celebrate Fireman Sam's 30th anniversary by introducing a very special episode," the show's producer, Ian McCue, revealed in November, according to People. "We heard that we have a very famous fan in Prince George, so we thought it would be really fun to bring a royal family to Pontypandy and see how the community reacts to that." (I mean, how freaking cool is that?)
In my experience, what little kids are obsessed with comes and goes in two- or three-month cycles. (Or somewhere along those lines.) For a while there, I swear my three kids were watching the movie Trolls every single day. I did get a brief reprieve... until Trolls Holiday dropped on Netflix, followed by the series Trolls: The Beat Goes On. (It's a good thing I think anything Trolls is hilarious and has decent music.)
These days, the tides have turned and everything is all about My Little Pony. Still, there are some things that never go out of style — and for my kids, it's the following: Frozen anything, the movie Moana, Paw Patrol, and Peppa Pig.
So at least my kiddos have something in common with Prince George — and I with the Duke and Duchess of Cambridge. If I were ever to meet the royal family face-to-face, I know I can count on our shared knowledge of Peppa Pig to bring us together and make us BFFs. Royals: They're just like us!
Check out Romper's new video series, Bearing The Motherload, where disagreeing parents from different sides of an issue sit down with a mediator and talk about how to support (and not judge) each other's parenting perspectives. New episodes air Mondays on Facebook.