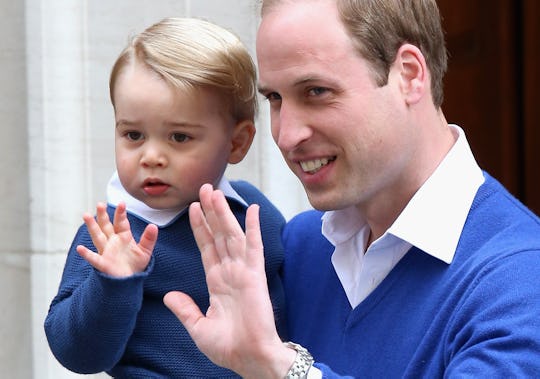 Chris Jackson/Getty Images
Prince George's First Car & Other Things The Royal Children Have That Most Adults Can Only Dream Of
Many adults dream of owning a car one day — and I mean any car, so long as it drives. But the Duke and Duchess of Cambridge's 2-year-old son? He's already set. Earlier this week, E! reported that little Prince George had inherited his first car... and it's not just any car, it's a miniature vintage Aston Martin V8 Volante. Swoon!
The little prince is set to inherit the rare convertible from his father, who received it back in 1988 from Prince Charles. The gift comes just in time for Prince George's first week of school and I can't think of anything that would make a kindergartner more popular with his class than being able to drive them around in a tiny luxury car that goes up to twenty miles per hour (not like he'll need much help becoming one of cool kids in school, but, hey, can't hurt).
That's not even where the toy-envy stops. Sure, George may have just been gifted a car, but there are plenty of other things the royal children have that most adults could only dream of owning. (You know, like a house or a healthy reputation. Right?) And whether or not you'd like to admit it, it can be easy to fall into the trap of becoming jealous of a small child. Seriously, who's the adult here?
So prepare yourself for some extreme jealousy — because here are just a couple of the things the royal kidlings currently own that you probably want. No, wait — definitely want.
A Wooden Rocking Horse
I know what you're thinking. Why would I want a rocking horse? Well, how about a rocking horse from President Obama? Does that change anything? Last year Prince George was gifted a lovely painted rocking horse by none other than the President when business took him across the pond. So, royal kids 1, adults everywhere, -1,000.
A Miniature Caravan
The Caravan Club presented Prince Charles and Princess Anne the most adorable miniature caravan way back in the day, complete with a wood and plaid interior. The caravan, which was made by Rollalong, would have any retro camping enthusiast drooling, as its creamy paint job really puts Airstreams to shame. Seriously though — what is it with the royal children and mini vehicles? In 1966, the Duke of York too was gifted a mini version of the silver convertible James Bond drove in Thunderball and Goldfinger. Enough already — I'm completely jealous.
An England Women's Football Team Uniform
In May last year, little Princess Charlotte received a tiny replica of the England Women's Football Team uniform from the players themselves — and it even has her name on the back. I'm not saying that Princess Charlotte doesn't deserve such a cool gift, presented, in person, by the whole team, but maybe someone who is actually old enough to appreciate how cool that is would be better suited? Just a thought.
A few of the other gifts Prince George and Princess Charlotte have received in recent days include toy penguins, crocheted blankets, a samurai painting, and fairy dust from New Zealand. (You read that right. Fairy dust.) Prince George and Princess Charlotte were born lucky, but so far their gift game is strong, even for royals.
Images: Chris Jackson/Getty Images