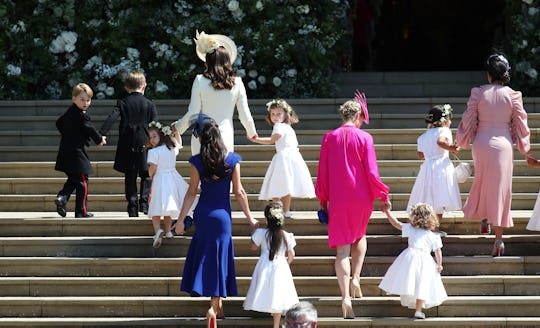 WPA Pool/Getty Images Entertainment/Getty Images
Prince George's Outfit At The Royal Wedding Was Peak Fairytale
The many visits royals made to dressmakers and tailors ahead of the royal wedding did not exclude Prince George, whose outfit at the royal wedding proved he was already on the job. Third in line to the British throne, he looked as dapper as can be at his uncle's nuptials in his official role as pageboy.
The 4-year-old prince wore black trousers and a black jacket and shirt, with his hair swept into a little "do" like a mouse who had been turned into a coachman for the fairytale wedding. Alongside the other junior bridesmaids and pageboys, he gave his usual tidy performance (he's a first child, remember) and looked happy to be involved in the family event. Sadly, the fancy millinery that dominated the wedding crowd was not seen on the under-10 set.
George coordinated with his sister, 3-year-old Princess Charlotte, who wore a white fairy dress down the aisle.
The bridal party consister of 10 nieces, nephews, and godchildren, including 3-year-old Princess Charlotte; Harry's 3-year-old niece Florence van Cutsem; 6-year-old Remi Litt and 7-year-old Rylan Litt, the children of Markle's close friend Benita Litt; 4-year-old Ivy Mulroney, daughter of Markle's best friend Jessica Mulroney; and 2-year-old Zalie Warren, the daughter of Jake Warren, an old friend of the family who attended Eton with Harry. The four page boys are 4-year-old Prince George, 6-year-old Jasper Dyer, son of Mark Dyer, "Royal Equerry" to Prince Charles and a parental figure of sorts to Harry (Harry is Jasper's godson), and 7-year-olds Brian and John Mulroney.
Just try and picture wrangling these kids in the rehearsal — it was described as "like herding cats" by NBC.
It wasn't George's first time performing his royal duties at a wedding — he served as pageboy in the wedding of Catherine, Duchess of Cambridge's sister Pippa Middleton's wedding in 2017. At the time, eager camera crews noted the moment he stepped on the £40,000 train of Middleton's wedding dress. Mulligan.
For that wedding, Prince George wore tan knickerbockers, long white socks, and a double-breasted white shirt with Peter Pan collar. And even if you're not one for tradition, you had to admit that dressing up children to look like a troupe of viscounts is a damn good idea.
Pippa Middleton is reportedly expecting her first child, in the afterglow of her wedding to billionaire hedge fund manager James Matthews. She "announced" her pregnancy (it hit the tabloids) around the same time as Kate Middleton delivered her third child, Prince Louis, in April, announcing at the tradition 12-week mark. That puts Pippa due around December.
Clearly, Prince George's efforts blessing her wedding as pageboy paid off!
There is a timeless quality to Prince George's appearances. From his white christening gown to the blue shirt and navy school sweater and shorts he wore to his first day of school at Thomas's Battersea, he isn't a child you see in a dinosaur t-shirt and cactus board shorts.
For the birth of his sister at the Lindo Wing at St. Mary's Hospital, little Prince George wore a Kingfisher blue sweater and looked poised as he returned to the scene of the crime (his own birth in 2013).
Well, poised for a 1-year-old.
Prince George may have looked dapper, as is to be expected of a tiny royal, but once again his sister, Prince Charlotte, stole the show with her patented "royal wave" as the carriage with the now-Duke and Duchess of Sussex in it pulled out from St. George's Chapel.
The lesson for the Duke and Duchess of Cambridge's first-born is: you're going to have to up the ante for the next wedding.