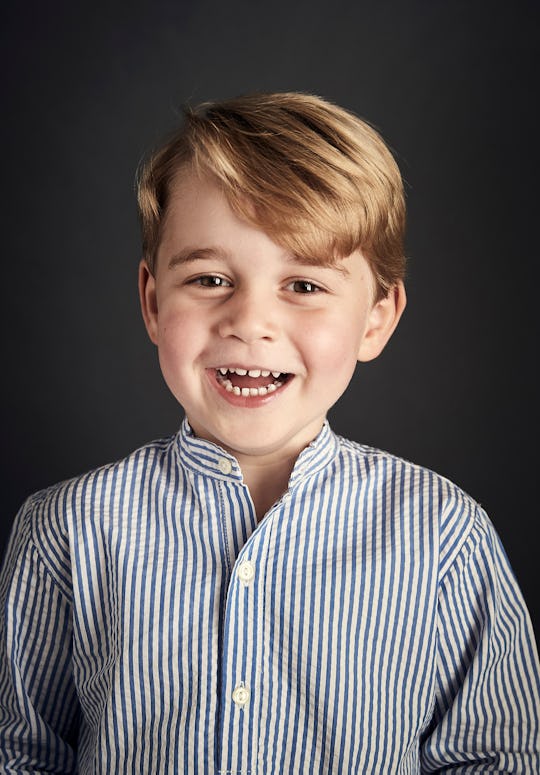 Handout/Getty Images Entertainment/Getty Images
Prince George Had The *Cutest* Role In His School's Christmas Play
There's nothing cuter than children dressing up and pretending to be someone, or something, else. And that's exactly why Prince George's role in his school's Christmas play will have you involuntarily saying "awww," because even royalty sometimes has to take the sidelines. Speaking to reporters on Wednesday at the BBC's Bridge House in Media City, Salford, Prince William revealed that he had recently attended his 4-year-old son's Christmas play at school, and that little George wasn't the lead. But it was still incredibly cute.
"I went to my boy's nativity play," Prince William explained, according to People. "It was funny. He was a sheep." And while one can only assume that Prince George was a great little sheep, it's pretty funny to imagine what it must be like for his peers to be on stage with a royal. Of course, the royal little sheep has been flocking to school in London since September, attending Thomas's Battersea in London and charming the world with his uniform at the same time.
And now, it seems as though Prince George is following in his uncle's footseps. According to Town & Country, "participating in the holiday play is a longstanding tradition in the royal family," and Prince Harry regularly dressed up for his own school's nativity play back in the day. Based on the photos of the royal brothers from the 1980s, it seems like Prince Harry was a bit more inclined to theatrics than his older brother, which makes sense considering the fact that he is now engaged to an American actress. But, back to the matter at hand: Prince George being adorable.
It's clear that Prince George is ready for the holidays, as the little man also recently wrote his Christmas list to Santa. Yes, even though Prince George is literally a prince, he still writes a Christmas list and gets assigned a minor role in his school's nativity play.
Specifically, Prince George asked for a police car in the letter, which was hand-delivered by his dad to Father Christmas himself. And he even vouched for his little George. "I've seen you and I had to give you this letter," Prince William told the Finnish Santa Clause, per People. "He hasn't written down many requests, so I think one request is probably okay."
And honestly, how sweet is it that the heir to the British throne only asked for one present this year? As can be seen in the photo of the list itself, Prince George left four out of the five spots on the list empty.
Even though Prince George's acting debut in his school's nativity play has dominated the news cycle on the royal front today, his parents were actually out and about to promote a fairly important cause on Wednesday when they spoke about watching Prince George perform. Yes, the royal couple was once again out to promote discussions about mental health. Per People:
Kate, donning a long-sleeved red dress, and William, looking sharp in a suit, joined children from Friars Primary School as they watched a film created by 14-year-old Josh Gale for Newsround about developing obsessive compulsive disorder.
Truly, the royal couple has been extremely involved in trying to fight off the stigma surrounding mental health in Britain, with Prince William even partnering with Lady Gaga to promote his #OktoSay campaign.
And Wednesday's event was just another way Prince William and Duchess Kate are doing their best to help de-stigmatize mental health disorders in both children and adults. At the event, Prince William sounded hopeful when he said, "Mental health used to be this scary word that people didn't like talking about and it's slowly getting better now," according to People.
A lot of that is due to Prince William's work with Kate. The two have long been dedicated to this cause, all while sharing adorable tidbits about their royal little ones.
Check out Romper's new video series, Romper's Doula Diaries:
Watch full episodes of Romper's Doula Diaries on Facebook Watch.