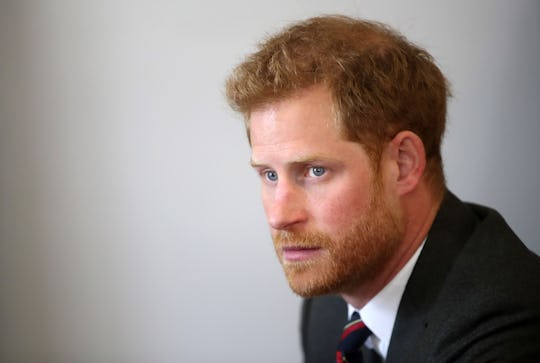 Chris Jackson/Getty Images Entertainment/Getty Images
Prince Harry Doesn't Think Young Kids Should Play Fortnite & He's Not The Only One
Fortnite is the gaming sensation sweeping the nation. Chances are, if you have a child, you've heard of it — and likely been warned about it. The intense reaction that many children have had to the game have led many to speak out about it, royals included. During a recent trip to Sussex, Prince Harry allegedly doesn't think Fortnite is appropriate for children under a certain age.
Prince Harry, along with his wife Meghan Markle, visited Sussex and spoke with a group of 8-year-olds. During their visit, the topic of Fortnite came up when the children asked the prince if he played. According to People, one of the students present reportedly said, "He asked how old we are. We said that we were 8 and he said, 'You guys shouldn't really play Fortnite.'" And when the kids told Harry that their parents allowed them to play, Harry reportedly asked, "What is wrong with parents?"
And while Harry's comments may seem a bit judgmental to some, Emma Johnson, the students' teacher, explained to Café Mom that they were only made out of concern. "He was saying that it's a concern of his, children playing the game before they are allowed to," she said. "We were saying that as a school it's a concern for us too."
Prince Harry isn't the only one who is concerned about children playing the game. Since the game was released on July 25, over 125 million players have joined in on the craze, according to Games Radar. The zombie survival game is played interactively online and the exhilarating play has made it somewhat addictive, if the reports are to be believed. A U.K. mom told Manchester Evening News that her 9-year-old had to be sent to rehab after becoming so engrossed in the game that she'd rather wet herself than pause for a bathroom break.
According to The Guardian, elementary schools across Australia have sent home letters to parents warning of the game's "negative effects" on children. Sydney's Bondi Beach public school explained to parents in such a letter that there had been "a noticeable change in some behaviors in the classroom and in the playground, that are directly linked to Fortnite." "We are noticing the negative effects of this game, particularly on boys and most concerning, on boys in K-2," it said. Similarly, Shellharbour public school said, "The ability to communicate online whilst playing these games is leading to moments of online bullying, the use of inappropriate language and abuse."
The National Society for the Prevention of Cruelty to Children is also warning parents against the effects of the game, the Huffington Post U.K. reported. Laura Randall, NSPCC's associate head of child safety online advised parents to be aware of what their children are playing:
Apps, sites, and games such as Fortnite: Battle Royale can be great opportunities for young people to play and engage online. However in light of emerging concerns about the risks children could be exposed to, we are urging parents to be aware of Fortnite's features. It's vital parents have regular conversations with their children about the games they are playing, and how to stay safe online.
Another potential risk associated with the game is contact with strangers. The National Crime Agency in the U.K. issued a warning in April that Fortnite could be potentially exposing children to sex offenders via the game's chat feature, according to The Telegraph. The chats connect strangers to one another while playing and the feature cannot be turned off.
These warnings, as well as Prince Harry's comments about the game, should not be taken as scare tactics for parents. Rather, families should be aware of the risks associated with Fortnite and how it could impact their children. Because no matter how much fun kids may have while playing, no game is worth their safety.