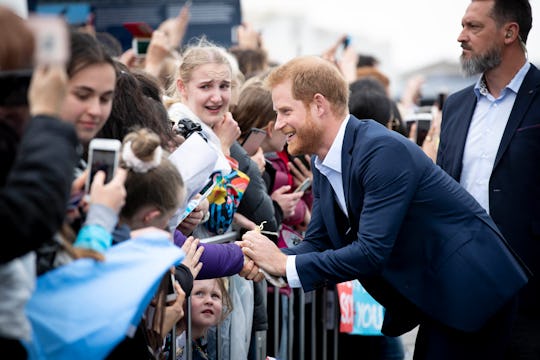 Pool/Getty Images Entertainment/Getty Images
Prince Harry Broke Royal Protocol To Comfort A Young Boy For The Most Touching Reason
When you're a member of the royal family, there's a lot of protocol that needs to be followed. But you know how the old saying goes: rules are made to be broken, sometimes. And that absolutely happened this week with a certain royal dad-to-be. While visiting New Zealand, Prince Harry broke royal protocol to comfort a young boy for the most touching reason. And seriously, you're going to need to grab tissues for this one.
For the past few weeks, Prince Harry and his new wife, Meghan Markle, have been on a royal tour. As reported by Town & Country, the royal couple has visited Australia, New Zealand, Fiji, and the Kingdom of Tonga. The tour has been pretty eventful so far. After all, not long after the couple touched down in Sydney, they announced that they were expecting their first child together in a statement from Kensington Palace.
Although the royal family sometimes gets treated like celebrities, they're much different than, say, the Kardashians, and their protocols make that clear. While celebs tend to pose for selfies with fans or sign autographs, Prince Harry generally adheres to the royal family's rule of avoiding just that, as reported by People.
In a rare occurrence, though, Prince Harry broke that rule while greeting fans at the Auckland's Viaduct Harbour. As reported by News.com.au, Prince Harry stopped to chat with a 6-year-old boy, Otia Nante, whose grandmother told Prince Harry that Otia had also lost his mother at a young age.
Prince Harry could certainly relate on some level, having lost his mother, Princess Diana, when he was only 12 years old. He was quick to offer comfort to Otia, saying, according to People:
Life will always be alright. You know that? I've made it to 34 years old, and life is great. I have a beautiful wife and a baby on the way. Your life is going to be sorted. Don't you worry about that.
Prince Harry also consoled Otia's grandmother, according to News.co.au, telling her, "You're doing a great job, Nan. Nans are so important in our lives."
Prince Harry then paused for a quick selfie with the young boy.
While this story is so touching, it's not shocking that Prince Harry took a moment to comfort a boy going through something so difficult. In fact, Prince Harry has opened up about how his mother's death impacted his childhood, telling The Telegraph in 2017 that he "shut down all his emotions" for years and Princess Diana's passing had a "quite serious effect" on him. He went on to explain in the same interview:
I can safely say that losing my mum at the age of 12, and therefore shutting down all of my emotions for the last 20 years, has had a quite serious effect on not only my personal life but my work as well... I have probably been very close to a complete breakdown on numerous occasions when all sorts of grief and sort of lies and misconceptions and everything are coming to you from every angle.
The pain of losing a parent is something that never fully goes away and it's clear as Prince Harry still carries his mother with him in everything he does. Now, things are bittersweet with Prince Harry expecting his first child. "I'm sure she's longing for me to have kids so she can be a grandmother again," Prince Harry said, during a 2012 ABC News Interview. "I hope that everything we do privately and officially, it makes her proud."
The royal family has protocol in place for a reason, but that moment with Otia was certainly one that warranted breaking the rules — and it's definitely one the young boy will carry with him forever.