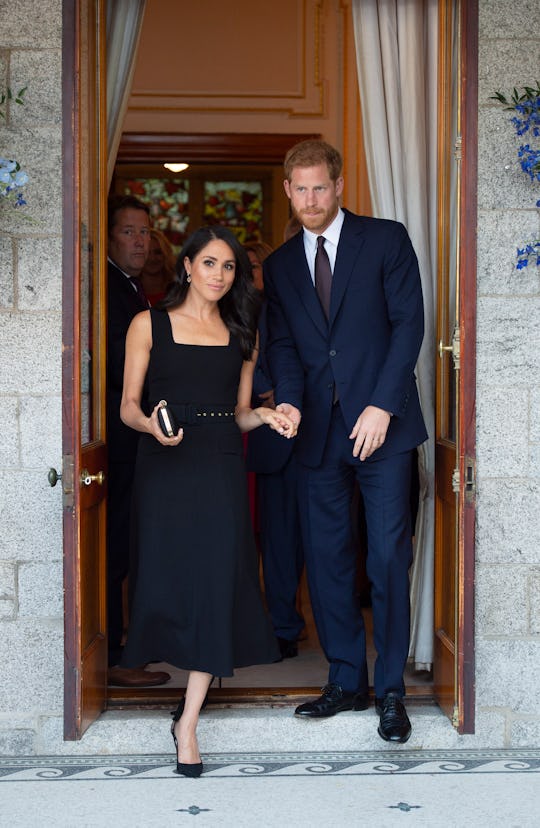 WPA Pool/Getty Images Entertainment/Getty Images
Meghan Markle Just Unveiled Her Hidden Talent To The Whole World
There's nothing quite like the dreamy, lovey-dovey newlywed period, and since the Duke and Duchess of Sussex haven't wasted any time getting back to work following their fairytale wedding at Windsor Castle in May, royal watchers have been able to witness some of the couples sweetest public moments as husband and wife. On Tuesday, the couple embarked on a two-day trip to Ireland for their first official foreign visit since they tied the knot, and since he still seems totally smitten, it's no surprise that Prince Harry had a predictably adorable reaction to Meghan Markle's hidden talent when they met with Irish Prime Minister Leo Varadkar in Dublin.
During a visit at Varadkar's offices, the duke and duchess were photographed signing the guestbook, with Prince Harry signing his name first in a quick scrawl, before quipping, "I never sign big enough," according to People. But there was likely a sweet reason why he was feeling a bit self-conscious about his signature: in her pre-Suits days, Meghan actually used to be a freelance calligrapher, and she has the flawless handwriting to prove it. The royal family's newest duchess signed her name beautifully below her husband's, and while he honestly did a pretty good job, Prince Harry responded by saying, "Yours is much nicer than mine!"
A photo taken of the guestbook shows that the couple took a decidedly minimalist approach — they both simply signed their first name on separate lines. But it's pretty clear that Meghan has her duchess signature totally down, and it sounds like she's had it for a while. In a 2013 interview with Larry King along with her former Suits co-star Patrick J. Adams, Meghan explained that she'd honed her penmanship skills during her days as a student at an all-girls Catholic school, and that before she became a successful actress, calligraphy was her side hustle. And it turns out that Prince Harry wasn't actually the first man to feel slightly intimidated by her skills.
Case in point? When King passed Meghan a pen and paper and asked her to write something, Adams said, "Yes, please, let her do it. Check this out. I don't write things down in front of her anymore because I'm embarrassed of how beautiful [her writing is]."
She's definitely had plenty of practice: in the years prior to landing her big break on Suits, the duchess worked part-time teaching calligraphy at Paper Source, a stationery shop in Beverly Hills, according to Town & Country, and she also worked as a calligrapher for celebrity weddings, including actress Paula Patton's wedding to singer Robin Thicke. Ahead of Meghan's own wedding to Prince Harry, Patton told Town & Country that, in 2005, Meghan hand-wrote the addresses on her 200 wedding invitation envelopes, and had also written her save-the-dates. And it sounds like she was seriously impressed. Patton said,
Meghan wrote up all the addresses and such. There was not a single mistake, it was truly perfect, impeccable, and I remember being in awe of her. She's very kind, too, and that's the truth. Very humble and kind and has an easy smile.
Though Meghan likely had no idea then that she'd one day be marrying into the British royal family, it does seem kind of fitting now that she has mastered the old-fashioned skill (calligraphy definitely seems to fit right in with curtseying and wearing fancy tiaras while attending formal afternoon teas). And while her time as a wedding calligrapher is certainly behind her, it's sweet to see that, just like her TV husband before him, Meghan's real-life husband, Prince Harry, is thoroughly impressed by her talent. Even if it does mean his own signature looks totally amateur in comparison.