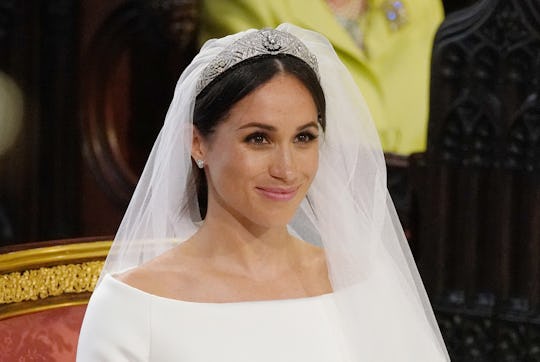 WPA Pool/Getty Images Entertainment/Getty Images
Prince Harry Helped Meghan Markle Choose Her Wedding Tiara & He Clearly Has Good Taste
When American actress Meghan Markle walked down the aisle of St. George's Chapel this past May on her wedding day, people were blown away by her beauty — including her husband, Prince Harry. People (including Prince Harry) could not stop staring at her simple makeup, stunning boatneck dress, and diamond tiara. But the tiara was something the prince was already familiar with. In a new exhibition at Windsor Castle, it was revealed that Prince Harry helped Meghan Markle choose her wedding tiara — and the whole thing is pretty romantic.
In honor of getting married to royalty, Markle got to pay a visit to Prince Harry's grandmother to borrow some of her jewels for the wedding, according to Harper's Bazaar. But, Prince Harry's grandmother isn't your average grandmother with a vintage jewelry collection — she's the Queen of the United Kingdom and has one of the most envied jewelry collections in the world, according to Town & Country. Needless to say, a look inside her collection is every girl's dream — and one that Markle got to experience with her husband to be. During this trip, Markle got to pick out the tiara that she would wear during her wedding ceremony, according to Harper's Bazaar.
Markle described the experience in a exhibition at Windsor Castle (that is open to the public) about her wedding, according to People. "Harry and I had gone to Buckingham Palace to meet with Her Majesty The Queen to select one of the options that were there, which was an incredible surreal day, as you could imagine," Markle said.
Even Prince Harry thought the experience was amazing. Prince Harry said during a recording in the exhibition, according to People:
[It's] every girl's dream to be able to try on a tiara and funnily enough, [that was] the one that suited the best, I shouldn't have really even been there, but [it was] such an incredible loan by my grandmother, it was really sweet.
If you're a firm believer in wedding traditions, then you know that some people think it is bad luck for the groom to see the bride in her dress before the big day — or have any input on her wedding look, for that matter, according to The Knot. Back in the day, this rule was in place so the groom "didn't have a chance to change his mind," according to The Knot. But that rule is so antiquated — and now, grooms are allowed to be a part of the decision making and allowed to see his bride ahead of time.
Although Prince Harry said he shouldn't have been there, he had every right to be and spend such a significant moment with his grandmother and bride to be. And it's not like this trip to the Queen's jewelry collection ruined the surprise. On their wedding day, Prince Harry still had such an incredible reaction to seeing his bride walk down the aisle for the first time, according to Elle — and luckily, it was caught on camera.
During the wedding reception, Prince Harry was close to crying and told Markle that she "looked amazing" once she reached him at the end of the aisle, according to Elle. Although he got to see Markle's tiara beforehand, it certainly did not spoil their wedding day.
Although the couple ebbed from tradition in this way, Markle also stuck to it, too. Markle stuck to the tradition of wearing "something old, something new, something borrowed, and something blue" by borrowing the tiara from the Queen, according to Harper's Bazaar.
If people want to be blown away by Meghan Markle's wedding gown and tiara (just like Prince Harry was), both of these items are currently on display until January in Windsor Castle, according to People. At the "A Royal Wedding: The Duke and Duchess of Sussex" exhibit, visitors can get an inside look into their royal wedding and all of the steps it took to plan it.
Although it might not be as good as paying a trip to the Queen's jewelry collection, getting a glimpse at the wedding dress and tiara is basically the next best thing.