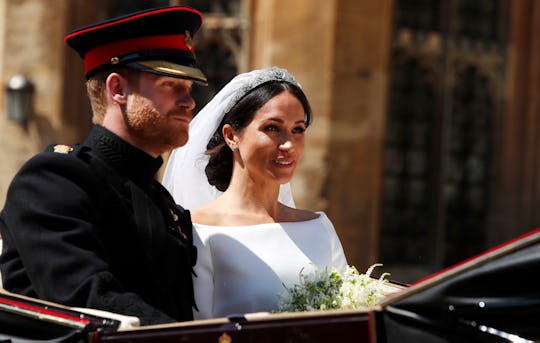 WPA Pool/Getty Images Entertainment/Getty Images
Prince Harry & Meghan Markle Received Millions Of Dollars Worth In Unwanted Wedding Gifts
You may recall that the kind, altruistic, and rather well-off Duke and Duchess of Sussex made it clear before their wedding that they wanted charity donations in lieu of gifts. However, many companies evidently let Prince Harry and Meghan Markle's request go in one corporate ear and out the other. Harry and Meghan are reportedly returning more than £7 million-worth of wedding gifts — or more than $9 million.
Kensington Palace allegedly received endless gifts addressed to Harry and Meghan, mostly from businesses and celebrities, reported Express. Interestingly, the main reason aides are encouraging Harry and Meghan to decline the gifts is so the companies do not use the newlyweds for free publicity.
"When gifts are accepted, the consent of the Member of the Royal Family should be contingent upon the enterprise undertaking not to exploit the gift for commercial purposes," read Kensington Palace's guidelines, according to Express. "Gifts offered by private individuals living in the UK not personally known to the Member of the Royal Family should be refused where there are concerns about the propriety or motives of the donor or the gift itself."
On top of all that, accepting gifts from unknown sources poses a security threat. Queen Elizabeth II is not actually allowed to receive such gifts, reported Cosmopolitan.
In response to the news that Meghan and Prince Harry are returning their gifts, Twitter came to the same consensus: they would gladly take some of those gifts off the royal couple's hands.
Others hoped that the couple would donate the gifts, rather than send them back.
And others chimed in with hilarious theories about why Harry and Meghan were actually returning their gifts.
The month before their wedding, Harry and Meghan announced seven charities they wanted people to donate to instead of giving gifts. The charities are CHIVA (Children's HIV Association), Crisis, Myna Mahila Foundation, Scotty's Little Soldiers, StreetGames, Surfers Against Sewage, and The Wilderness Foundation UK, according to the official royal website.
Still, many found creative ways around the philanthropic request. For example, PETA India named a bull that was rescued from the side of the road Merry, in honor of Meghan and Harry, reported Zee News. Sachin Bangera, a public relations director for PETA India, said in a statement:
We have named the bull after Prince Harry and Markle. It's practically not possible to gift the Bull, as it belongs to Maharashtra, India. So, we have made a portrait of Merry, which we have framed and has his story written on it. We will send this portrait to the royal couple.
That gift sounds like one the couple may choose to keep, should it get past royal security, since it represents the rescue of the ailing bull.
Prince Seeiso and Princess Mabereng of Lesotho gave the newlyweds a Wonderbag, reported USA Today. Wonderbags are revolutionary non-electric slow cookers that help African women and children cook despite fuel shortages. Harry and Prince Seeiso are reportedly close friends, so maybe that's one gift they kept. Or, maybe they chose to send it to someone actually in need of it.
Another out-of-the-box gift came from President Emmanuel Macron of France, who gave the couple two engraved pens, a lighter, and a vanity case from S.T. Dupont's 007 Collection, reported Vanity Fair via a press release from S.T. Dupont. Macron's gift follows a long line of tradition; in 1947, the president of France gifted Queen Elizabeth II (then a princess) a bespoke S.T. Dupont gift preceding her wedding to Prince Philip. And when Prince William and Kate Middleton got married in 2011, President Sarközy of France also gave them an S.T. Dupont gift, according to Vanity Fair.
Clearly, being a literal Duke and Duchess is not enough to convince people stop giving you gifts you don't need. Here's hoping the companies who sent Harry and Meghan unwanted gifts decide to make donations to the charities they selected instead.