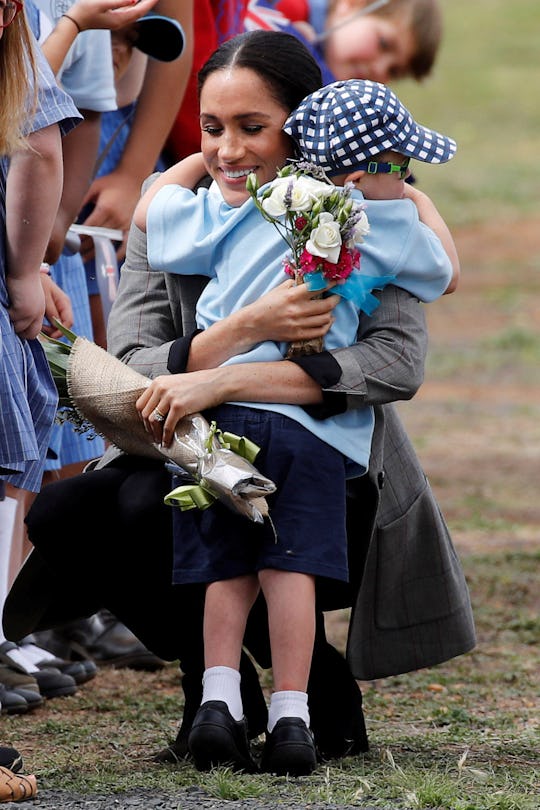 Pool/Getty Images Entertainment/Getty Images
The Story Behind This Boy Hugging Prince Harry & Meghan Markle Will Make Your Day 100% Better
Meghan Markle and her husband Prince Harry confirmed earlier this week that they are, indeed, expecting their first child (due sometime next spring). And now that the news is out, people are looking to the Duke and Duchess of Sussex to see how they will be as parents. And, well, during a recent royal appearance in Australia, Prince Harry and Meghan Markle bent royal protocol to hug a 5-year-old boy, showing off just how amazing they are with kids.
During a stop in Dubbo, Australia on Wednesday, the couple visited an airport, according to USA Today, where they were greeted by students and well-wishers, looking to meet them and congratulate them on their very exciting news. While all of these people were super excited to meet the couple, no one was happier than 5-year-old Luke Vincent, according to the Independent, who greeted Prince Harry and Markle with the biggest bear hug, which they, of course, reciprocated (and technically broke royal protocol at the same time). It should be noted that "royal protocol" states that there is no touching members of the royal family beyond a handshake, according to PopSugar.
But, as you can see from photos and video of the interaction, the Duke and Duchess were delighted by this exchange, according to the Independent, including the little boy, who got the pleasure of gifting Markle a bouquet of flowers and got to "tug on" Prince Harry's beard.
If there is anyone to be envious of this morning, it's this boy.
The boy's principal, Anne Van Darrel, explained Luke's fascination with the royal couple to the Independent:
He got a hug from Meghan and then Harry bent down to speak to him and Luke didn't give him any choice. Luke's favorite person in the world is Santa Claus, who has a beard. So he rubbed Harry's beard. It's been a wonderful experience for these little country kids to meet people they've only ever seen on TV.
And don't worry, there's video of this oh-sweet-encounter/ beard rub. Please enjoy:
This stop in Dubbo is just one of their many during this current royal tour throughout Australia, New Zealand, Fiji, and Tonga, according to USA Today. Yes, Markle is expected to make 76 engagements within the 16 days of this tour, according to The Sun, which started earlier this week on Sunday.
Although this might be a little hard on Markle (she admitted she was "running on adrenaline" during one stop, according to The Sun), the tour pretty much guarantees that fans will see plenty more of these sweet moments between the couple and their well-wishers.
This trip has already gotten off to an amazing start. On Tuesday, during a speech, Prince Harry stated that he and Markle were so happy to be in Australia just one day after they confirmed their big news (as the rest of the world was recovering from the excitement of the announcement), according to Us Weekly. "We also couldn't think of a better place to announce the, er, upcoming baby," Prince Harry said. "Whether it's a boy or a girl." Later on in the day, Markle also reportedly told one royal family super-fan that she hoped to return to Australia next year with their "little one" with them, according to E! News. Awwwwwww.
Rest assured that the next few days of their trip will be filled with plenty of toasts (without alcohol for Markle), hugs (that break royal protocol), and more comments about Markle's pregnancy (from the couple themselves). So far, their trip has been off to an amazing start.