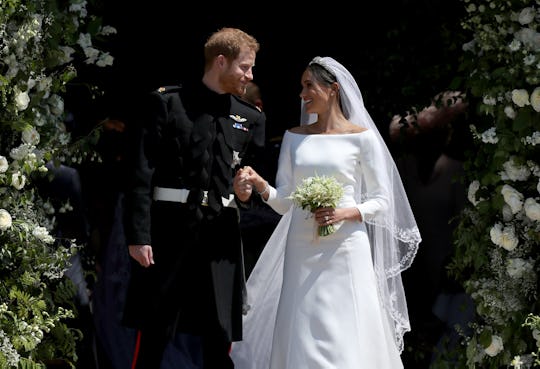 WPA Pool/Getty Images Entertainment/Getty Images
Prince Harry & Meghan Markle Donated Their Wedding Flowers, & It Will Warm Your Heart
Considering their philanthropic nature, it's no surprise that the newly-named Duke and Duchess of Sussex made a very important donation after their wedding. Prince Harry and Meghan Markle donated their wedding flowers to two different causes, and the details of both their donations will warm your heart.
Harry and Meghan donated most of their wedding flowers to St. Joseph's Hospice in London, reportedVanity Fair. The hospice shared a photo to Facebook of one of its residents happily clutching a bouquet. "Today we got a very special delivery," reads the caption. "Beautiful bouquets made from the #royalwedding flowers which we gave to our patients. A big thank you to Harry and Meghan and florist Philippa Craddock. Our hospice smells and looks gorgeous. Such a lovely gesture ❤️."
Craddock, the royal florist, designed the floral arrangements for every aspect of the royal wedding, including the young bridesmaids' flower crowns, Vanity Fair reported. And according to her website, it seems that donating the flowers to the hospice is something she's done before. "All our green waste is either composted or when our events are in London, repurposed by Floral Angels, a charity set up to distribute once loved flowers to hospices and charities throughout the capital," her website explains.
While most of the flowers went to St. Joseph's Hospice, Meghan sent the bouquet she carried during her wedding to somewhere cloaked in tradition. She placed her bouquet to rest on the Grave of the Unknown Warrior in Westminster Abbey, according to a post on Westminster Abbey's official website. An anonymous warrior's body was brought to London from France in 1920 and buried in The Grave of the Unknown Warrior, the website explained.
Meghan's choice here follows in the footsteps of several royal brides before her. Queen Elizabeth, the Queen Mother (Queen Elizabeth II's mom) began the tradition when she married King George VI in 1923, Westminster Abbey's website explained. She chose to place the bouquet on the Grave of the Unknown Warrior in memory of her brother Fergus, who was killed in 1915 during World War I, as well as the many other soldiers who were killed or hurt during the war, the official royal website reported.
Other royal brides to send their wedding bouquets to the Grave of the Unknown Warrior include Queen Elizabeth II, Princess Margaret, Princess Alexandra, Princess Anne, Princess Diana, Sarah, Duchess of York, Sophie, Countess of Wessex, and Catherine Middleton, Duchess of Cambridge, reported People.
And on top of all that, Meghan's bouquet itself was filled with meaning. The day before the wedding, Prince Harry handpicked flowers from Kensington Palace's private garden for the occasion, according to an official royal press release. Craddock took the flowers he chose and incorporated them into the bouquet, which was comprised of scented sweet peas, lily of the valley, astilbe, jasmine and astrantia, sprigs of myrtle, and Forget-Me-Nots, the press release stated. The couple made sure to include Forget-Me-Nots to honor Prince Harry's late mother Diana, Princess of Wales, as they were her favorite flower.
Additionally, the use of myrtle is riddled with history. The myrtle sprigs in Meghan's bouquet came from stems planted by Queen Victoria in 1845, as well as from a plant grown from the myrtle that was used in Queen Elizabeth II's bouquet at her 1947 wedding, noted the royal press release.
Meghan and Harry made sure to incorporate both family traditions and humanitarianism into their big day in many ways, and that's especially evident in what they decided to do with their wedding flowers after the wedding. There's no doubt that the couple will continue giving back and honoring traditions throughout their tenure as the Duke and Duchess of Sussex.