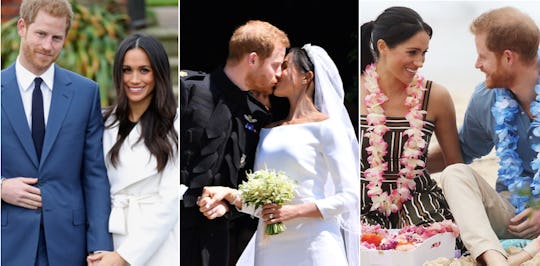 Chris Jackson/Getty Images Entertainment/Getty Images WPA Pool/Getty Images Entertainment/Getty Images Chris Jackson/Getty Images Entertainment/Getty Images
A Look Back At Harry & Meghan's Royal Romance That Started 1 Year Ago Today
It's almost impossible to believe that it was only one year ago that we learned Meghan Markle would, in fact, be joining the royal family. In the time since, we've gushed over every detail of their wedding, their first trip together as a married couple to Australia, and, of course, their announcement that they're expecting their first baby next spring. It's all super exciting, and since Prince Harry and Meghan Markle got engaged exactly one year ago today, here's a look back at their sweetest moments.
On Nov. 27, 2017, Prince Harry and Markle made their engagement announcement official, according to USA Today, following it up with an exclusive sit-down interview with the BBC. In that interview, the couple opened up about how they met, how he proposed, and, foreshadowing the events of a few months into the future, that they were looking forward to starting a family as soon as possible.
The couple began by sharing that the engagement happened a few nights prior to the interview, at their cottage. They were at home, roasting a chicken, when Prince Harry got down on one knee. "I could barely let you finish proposing. I said, 'Can I say yes now?'" Markle said, according to TIME.
Of course, with the wedding behind us and a new royal baby on the way, there's never been a better time to reminisce over Prince Harry and Meghan Markle's sweetest moments since their announcement.
1. When Prince Harry Said Princess Diana Would Have Been "Jumping Up And Down" Over The Engagement
During the BBC interview, of course, the topic of how each of the couple's parents felt about their relationship came up. Namely, Prince Harry was asked what he thought his late mother, Princess Diana, would think about his bride-to-be at the time, saying:
They would be thick as thieves, without question, I think she would be over the moon, jumping up and down, you know, so excited for me, but then, as I said, would have probably been best friends with Meghan. So no it's, you know, it is days like today when I really miss having her around and miss being able to share the happy news. But you know with the ring and with everything else that's going on, I'm sure she's [with us].
2. When They Released Their Stunning Engagement Photos
Kensington Palace released the photos of the couple, which were as predictably flawless as one would ever imagine.
3. When They Showed PDA
Chris Jackson/Getty Images Entertainment/Getty Images
Chris Jackson/Getty Images Entertainment/Getty Images
Chris Jackson/Getty Images Entertainment/Getty Images
WPA Pool/Getty Images Entertainment/Getty Images
Prince Harry and Markle are often seen being touchy-feely with one another, often holding hands, touching one another's backs, or even hugging (and sometimes kissing) in public, which USA Today reports, is certainly a departure from typical royal protocol.
4. When Prince Harry Said: "You Look Amazing"
After Duchess Meghan descended down the aisle and met her groom at the altar, eagle-eyed followers notice that he whispered two things to her when he saw her, as MSN reported. First, Prince Harry said: "You look amazing," and then followed that up with: "I'm so lucky." (Swoon!)
5. When They Announced Their Royal Baby News
In October, Kensington Palace officially announced that Markle is pregnant. The official account tweeted:
Their Royal Highnesses The Duke and Duchess of Sussex are very pleased to announce that The Duchess of Sussex is expecting a baby in the Spring of 2019.
6. When They Visited The Redwoods
Just two weeks after the pregnancy announcement, Prince Harry and Duchess Meghan visited the Redwoods Treewalk Rotorua in New Zealand, as People reported. The couple was seen walking across a suspension bridge, checking out the amazing natural scenes, and of course, grabbing a few adorable photos.
7. When Prince Harry Snapped This Iconic Picture Of His Wife
During the trip, Prince Harry even took his own photo of his wife standing beneath the trees, cradling her growing bump. Kensington Palace shared the photo on Instagram, adding a note from the Duke and Duchess:
Thank you New Zealand for the most wonderful last week of our tour. It has been a privilege to meet so many friendly Kiwis. Australia, Fiji, Tonga and NZ — we leave feeling inspired and reminded of how every single one of us can make a difference. "The rain that refreshes the parched ground, is made up of single drops" - Kate Sheppard
Though the couple has had a truly incredible year, we can be sure that the best moments are yet to come... especially when they become a royal family of three.